How voting access is being expanded ahead of November midterms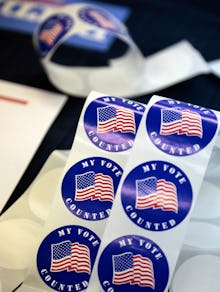 On Tuesday, New Jersey became the latest state to expand voting access when Gov. Phil Murphy signed an automatic voter registration bill into law. Under the new rules, Garden State residents will be automatically registered to vote when applying for licenses with the Motor Vehicle Commission and at other state agencies, unless they specifically choose to opt out.
"Today, New Jersey proudly joins a select group of states — 11 plus the District of Columbia — that have enacted automatic voter registration to expand and protect the voting rights of their citizens," Murphy said in a statement.
With midterm elections just over six months away, this is just one example of how some states and districts nationwide are helping to ensure more potential voters can head to the polls.
Over the past eight years, voting legislation in the U.S. has largely been marked by a surge of efforts to impede voting access. Twenty-three states have implemented voting rights restrictions since the 2010 midterms, according to the Brennan Center for Justice, and voters in 14 states faced new constraints to voting access for the first time in the 2016 presidential election. These restrictions seem to have an effect: Wisconsin Attorney General Brad Schimel, a Republican, suggested Thursday that the state's voter ID law likely helped Donald Trump carry the state in 2016.
States continue to enact and enforce these voter restriction laws today. So far in 2018, the Brennan Center reported that at least 24 states have introduced or carried over at least 70 measures that restrict voting access, including a new poll tax on college students that passed in New Hampshire.
New Jersey's new automatic registration measure, however, is part of a broader trend toward expanding, rather than restricting, voting access nationwide.
According to the Brennan Center, at least 41 states have introduced or carried over at least 514 bills to expand voting access in 2018. Grassroots groups are also working to ensure turnout in November is higher than ever.
Automatic registration and other voting access measures
Since Oregon became the first state to adopt AVR in March 2015, an additional 11 states and the District of Columbia have enacted their own policies.
Twenty states have introduced AVR bills in 2018, including Massachusetts, where support for the measure is growing. In addition to New Jersey, Maryland and Washington have recently passed AVR measures; in March, Utah enacted a similar voting registration measure, which mandates that eligible voters be asked if they'd like to register during driver's license transactions. Automatic registration in Illinois, passed in 2017, will take effect beginning July 1.
A coalition of voting rights advocates in Michigan are currently pushing for a ballot initiative that would amend the state Constitution to allow for AVR. This is just one part of the proposed amendment, which includes other voting rights measures such as sending ballots to military and overseas voters 45 days before an election, allowing in-person voter registration on Election Day and providing all voters access to an absentee ballot regardless of circumstance.
The measures have been effective. The Oregon Secretary of State's office reported that nearly 100,000 out of 230,000 automatically registered voters cast ballots in the 2016 election. In the first six months Vermont's policy was in effect, 12,344 voter registrations were processed or updated based on data from the Department of Motor Vehicles, compared to 7,626 registrations during the same time period the prior year.
Meanwhile, New York Gov. Andrew Cuomo announced an executive order Wednesday that grants all parolees the right to vote, and a federal court in February struck down Florida's prohibitive process for restoring felon voting rights.
Washington's automatic registration measure was passed as part of a broader package of voting access laws, including allowing teenagers to pre-register to vote beginning at age 16 and enacting same-day in-person voter registration. The Utah legislature's recently passed voting rights legislation also include a mandate for counties to offer in-person voting in at least one voting center for at least four days before an election.
California, which already had both AVR and pre-registration for 16- and 17-year-olds, combined the two measures in February with a law that "automatically [pre-registers] eligible Californians when they obtain their first driver's license," according to New York magazine. The new law is expected to result in roughly 200,000 new voter registrations per year.
Teens: the next voters?
Some states and districts are also attempting to redefine which Americans can vote in the first place. In the wake of the February mass shooting at a high school in Parkland, Florida, which sparked a nationwide wave of activism led by high-school students, multiple states and the District of Columbia have introduced measures to give 16- and 17-year olds the right to vote.
Though a similar effort failed in 2015, D.C. appears poised to be the first to adopt such a measure: A bill to lower the voting age has received majority support from the D.C. Council as well as the mayor.
"It's pretty hard for anyone to watch the events of the last couple of months and not understand the pure power and maturity of incredibly young voices," D.C. Council member Charles Allen, who introduced the measure, told the Washington Post.
The bill's potential passage could help spur a nationwide trend, the first signs of which are already evident. Since the Parkland shooting, Minnesota and Georgia have also introduced measures related to changing the voting age. The Minnesota proposal would amend the state constitution to change the voting age in state and local elections to 16, while the Georgia bill authorizes residents who are at least 16 to register to vote.
Currently, the federal voting age is set at 18 via the 26th Amendment, which specifies that "the right of citizens of the United States, who are 18 years of age or older, to vote shall not be denied or abridged by the United States or any state on account of age." Experts cited by NBC News, however, note the the amendment does not specifically prohibit states from lowering the voting age.
Doing so could have potential benefits, according to an analysis from Danish professor Jens Olav Dahlgaard published in the Washington Post. Voting is a habit, and those who start voting while living at home may be more likely to continue voting in the future. In addition, Dahlgaard noted, their parents will be more likely to vote, too.
Grassroots efforts
Amid these various legislative efforts, grassroots organizations are also doing their part to ensure as many people as possible can vote in November.
TurboVote, an online service that helps students both vote and register to vote, launched in April its Ace the Midterms initiative, which aims to achieve 100,000 signups in 2018 with help from the organizations campus partners.
Young Americans are also being targeted in a nationwide voter registration drive led by gun safety groups Giffords and the Everytown for Gun Safety. The effort is focusing on "states and districts represented by incumbent Republican lawmakers who have taken money from the National Rifle Association and voted against gun control measures," according to Politico.
As part of the initiative, newly turned 18-year-olds will receive birthday packages that include a voter registration form.
The Electoral Justice League is taking its movement to the cinema, where it targeted black voters with registration drives at screenings of A Wrinkle in Time and Black Panther.
"We knew that black people were going to go see [Black Panther] more than any other film in a very long time," Kayla Reed, an organizer with the Electoral Justice Effort, said in a previous interview with Mic. "Bringing policy to culture is really helping to demystify democracy and making it clear that anyone can participate."
The Indivisible Project is facilitating a more widespread effort by inspiring its members to start their own voter registration efforts. The group launched its own voter registration tool and published a guidebook that gives step-by-step instructions for voter registration drives using Indivisible's resources.
And voter registration organization HeadCount, which has traditionally registered young voters at music events, has expanded their efforts ahead of the 2018 midterm elections. The organization, along with Funny or Die and comedian Billy Eichner, launched the Glam Up the Midterms initiative to entice millennials to vote. HeadCount reported a record-breaking day of voter registrations when they registered voters at the March for our Lives protests in March.
The organization is also giving schools the chance to launch their own registration drives. HeadCount published a guidebook for students and teachers that explains how to registered schools in schools, and organization founder Andy Bernstein said the group aims to inspire 90% of high schools to offer voter registration by June.