Small kitchen, serious cook: 9 essential pieces of cookware for under $200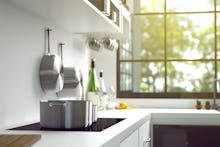 I recently moved into a co-living community where each suite has four bedrooms and a kitchenette that's smaller than some kitchen areas I've seen in mid-range hotel rooms. Our suite has a conventional stovetop and range and cabinets, but space is precious. Whether you're in a small apartment or a dorm, making smart use of the kitchen area is key to staying organized and maintaining some sort of harmony among roommates.
I've given a lot of thought to stocking up my kitchen in a minimalist way, without breaking the bank. The latest kitchen gadgets can be overwhelming and intimidating, and even more so for novice cooks learning their way around a kitchen. Bottom line: It can be easy to spend a lot of money on items you might not actually use.
Just how many knives does a person really need? An 18-piece set seems excessive unless you're a professional. What about those pots and pans that are marketed as a must-have collection? While a 10-piece set for $150 to $200 might seem like a good deal, it's not the best investment for beginners. And it's certainly not the wisest choice for someone with limited cabinet space.
Two-hundred dollars can get you nine cooking essentials that have the potential to last for a long time. With my personal experience and with some advice from friends who love cooking, we came up with a game plan on building a starter kitchen with a few key items. Most people won't need much else, unless it's time to upgrade to a bigger space or if you're regularly making bigger batches of food.
From baking biscuits and cakes to making pizza, the sturdy and durable 10.25-inch cast-iron pan is one of the most versatile items for cooking and baking. A cast-iron pan comes pre-seasoned and is best for foods that require high heat, as the heat is maintained evenly compared to, say, an aluminum pan. Get a gorgeous sear on a juicy steak, make deliciously flaky fillets, grill a roasted chicken — the possibilities are endless.
Keeping it well-maintained will take a little elbow grease, but it's key to making a cast-iron pan last decades — it gets better the more you use it.
The Dutch oven that makes meals that'll last all week, $45.49
The six-quart Dutch oven is yet another versatile piece of cookware that will last you forever. Its heavy, tight-fitting lid and thick bottom help retain the heat for use both on the stovetop and in the oven. Use this for savory stews, chili, crusty, no-knead bread and even crispy french fries.
You don't need to pay for an expensive brand, but make sure there's an enamel coating on the bottom to prevent food from sticking to it. If the bottom eventually browns, use a bleach solution to give it some TLC.
The saucepan for slow simmers, rolling boils or liquids, $17.43
The 1.5-quart stainless steel saucepan is best for slow simmers, rolling boils and reducing liquids. You can also use it to make rice and reheat soups, puff up grains and stir sauces — think of the saucepan as the utility cookware for smaller, everyday tasks.
If you plan on doing more big-batch cooking, you can substitute with the Dutch oven rather than getting a larger saucepan that'll just take up more space.
When it comes to a knife, quality is more important than quantity. Whether you're mincing, slicing, dicing or chopping, one high-quality 8-inch chef's knife can do it all.
This Victorinox knife isn't fancy or high-end by any means, but it'll get the job done. The ergonomic and nonslip handle makes it popular for cooks who are just starting to develop their culinary skills. Sharpening your knife is the key to making it last, so you might want to invest in a sharpener as well.
For everyday use, an 8-inch nonstick pan does what it's supposed to do — cook food that slides off easily once prepared, making cleanup a cinch. Eggs and cheesy dishes like quesadillas and grilled cheese are ideal meals to make on a nonstick pan.
A nonstick pan can hold up well (typically five years, maybe more or less depending on the quality) by avoiding a couple things: metal utensils, as it could scratch the coating; acidic foods like tomatoes and lemons, as they can damage the surface; and cooking sprays, which can aid in the buildup of additives in the spray.
Sheet pans don't need to be huge, especially if you're cooking for one or two people. These can be used for reheating leftovers, baking smaller-batch cookies and prepping dinners for two. Bonus: It usually fits inside most toaster ovens.
These are great for broiling as well — the broiler is generally an underutilized appliance. Similar to grilling, a broiler uses high, direct heat to cook food quickly and give it a browned crust. It's ideal for flavorful pork chops, steaks and chicken cutlets, especially if you're short on time.
The must-have accessories, $22.98
You can't have a full kitchen without serving and cooking utensils. After all, there's only so much you can do with a pair of chopsticks and a fork.
A wooden spoon won't get hot if you leave it in a pot while cooking, which helps to keep your fingers and hands burn-free. It's also safe for nonstick usage — just don't put them through the dishwasher. Stock up on a set of wooden spoons for $11.99.
Heat-resistant silicone spatulas ($10.99) are another tool you'll need in your kitchen arsenal. Nonstick spatulas made of rubber or plastic aren't always durable nor heat resistant — you don't want to flip a smooth omelet with a spatula that'll melt around the edges in a hot pan, do you?
The total cost
You can buy all nine items for a total of $196.71. You'll probably have the best-stocked starter kitchen that's the envy of all your friends — or at least the ones who can fit in your compact living space.