'Law & Order: SVU' actor Marquise Vilsón talks trans representation and wanting to play a bad boy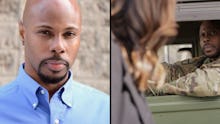 On an episode of NBC's enduring procedural Law & Order: Special Victims Unit in early April, Mariska Hargitay's Olivia Benson and her team of detectives set out to investigate a rape they believe was committed by a group of soldiers.
One of the men they encounter in their investigation, Sgt. Jim Preston, is a transgender man who delivers a powerful speech about his own identity on the witness stand. Preston was played in a stellar appearance by actor Marquise Vilsón, an out trans man with a personal connection to the character — before his career in acting, Vilsón served in the military, too.
Vilsón got the role on SVU after meeting the show's casting director at an open call for actors of trans experience, an industry event Vilsón said he hopes to see more of in the future. Mic spoke to Vilsón on the phone Tuesday about his appearance on SVU, why it's so important to cast trans actors to play trans characters and what his dream project would be.
(Editor's note: This interview has been edited and condensed for clarity.)
Mic: What were your thoughts when you first read the script for this episode of SVU? I know you have some personal overlap with the character because you also served — did it strike you as similar to your own experience in any way?
Marquise Vilsón: When I got the script, to be honest with you, I was pleasantly surprised. The script was extremely thoughtful, I think, in the way that they were trying to tell Jim's story through his own eyes and his own experience. So I definitely want to say that in regard to the writers over at Law & Order: SVU.
There were some overlaps in terms of [my] having past military experience — of course, for me that was nearly two decades ago. That was back in 2001 when I served. The conversation back then was not specific at all to what people are dealing with today. The only mirror that we were really kind of sharing is that of trans experience. However, this character, Jim Preston, is someone who is a patriot, who loves his country, who really wants to serve, who's very proud of that. So there's a disconnect in that area, because I don't feel that way at this present day. Some of the other stuff he's dealing with, like feeling invisible, of course I've been at that point at some point in my life, too. Kind of wanting to just stay in the shadows a little bit.
I had to do my legwork. I mean, I do know soldiers, people that are in the military now that are trans, and are dealing with these things that are changing and things that are happening present day. So I had to talk to them to really understand what it's like for them now versus what it was before the current administration.
Can you talk a little bit about how you first got into acting?
MV: I'll try to give you the briefest version possible. Performing is something I've pretty much always had a connection to. I do come from the underground ballroom community, and I've been in that scene and that community since 1995. So performing is something that I've always done. I would give a lot of credit to my experience in the ballroom community for that. Of course, as a young person I've taken performance art classes, dance, painting, rap music, whatever it was.
The way that it came about, though? I want to say in 2016, I initially started doing a web series, and immediately I was just bit. I was just bit by the bug, like, 'Oh my god, this is amazing." It felt really liberating. And then after that I ended [up] booking the off-Broadway play that I've done, Charm. And since it's been a ride.
Do you have any exciting projects coming up that you want us to know about?
MV: I did book a role in a Peter Hedges film starring Julia Roberts, which is called Ben Is Back. That'll be out this summer. And I'm working on some other projects, too.
Something we've covered here at Mic is this trend where cisgender actors are cast to play trans characters and then are really lauded for it, while trans actors playing trans characters are pretty much overlooked [during awards season]. Why do you think it's important for trans actors to actually play trans characters?
MV: I think it's important [because] whether you're trans or not, any person wants to be able to see images that really reflect them in what we're seeing in television or movie theaters, whatever that might be.
For me, it means literally everything because of what it represents for people who are watching these images. You know, if it was women of color, Latino folks, people who are Asian, Pacific Islanders, absolutely I think it's really important to have reflections that represent you, represent your community, your voice in these roles. Really, I'm hoping that as there's continued visibility and conversations around people of trans experience in television, film and theater, I'm hoping that people start to realize, okay, these folks are talented. They deserve these opportunities, they deserve to be present.
Are you at all worried about being pushed into an activist role as an out trans actor?
MV: No, I'm not worried about being an activist. The responsibility that is connected to my career, that kind of work is something that I've been doing for a very long time. This is not the first time that I've had to be in a position where I've had to speak to specific issues. In the past I have worked with the young homeless youth population, within the trans community as well [of course], doing HIV testing, pre- and post-counseling, trying to connect people to health care services.
So being an activist in that way, no, I'm not worried about taking on that responsibility at all. I feel like I'm honored to be that servant to my community in that way, that I can actively be a voice or be actively participating in what is happening right now.
This is always a fun question and I'm always curious about the answer: Do you have a dream role you've always wanted to play? Or any project you'd love to work on someday?
MV: [My] dream role would definitely be to play a love interest who's a total, total bad boy. It's the complete opposite of who I am in my real-life experience, so it would really be cool to play a role like that. And if there was anyone I'd really be excited to work with, I'd have to say Dwayne Johnson. Dwayne Johnson and Kevin Hart. Which is interesting because they're the total opposite of what I was just asking for, because they've done quite a bit of comedy together. I think I would be very excited to work with the two of them on any kind of project.
Have you gotten any kind of fan responses from trans teens or kids? This might be the first generation of trans kids growing up with visible trans role models in Hollywood.
MV: Since the airing of the episode, absolutely, yes. I actually have. Again, I've been in the scene for a long time. This is not the first time that I've been "out" or "visible." I was in a documentary many moons ago called The Aggressives. So, in terms of the LGBTQ community at large, these sorts of things have happened before, where people reach out and have questions or are just happy about being able to see someone they feel like they can relate to.
I think now it's just happening in a very different way, because doing a documentary is not at all scripted. It's just you, versus this actual platform that I have now. And so, yes, I have gotten quite a few messages from young people or guys [who] are just kind of newer in their transition, folks [who] want to act, people [who] want to be creative, want to write, want to sing, want to do all of these things. And seeing someone [where] they're like, "Wow, this is happening," or this is something that's possible, I think it's just starting to shift the way they're thinking about their own experience, which is great.
And I have to give credit and praises where it's due, obviously to people like Laverne Cox, Alexandra Billings, Trace Lysette and Amiyah Scott. There's so many women I'm seeing [who] are opening those doors for me to even be able to stand where I'm at right now.
Well, I'm really excited to see where your career goes next. Is there anything else you think we should know?
MV: This is not the last time that you'll see me, that is for sure. This is not the last time that you'll see or hear from Marquise Vilsón.