Cynthia Nixon is showing progressives how to pull Democrats to the left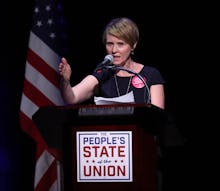 When actress Cynthia Nixon first announced her campaign for governor of New York, she was met by a mix of excitement and derision. While some progressive activists cheered her entry into the race, many established New York Democrats attacked her candidacy as a political stunt.
Nixon, however, is proving she doesn't need experience to effect change for progressives. She just has to keep running.
On Wednesday, Cuomo announced he would sign an executive order giving convicted felons on parole the right to vote in New York state. Current law allows felons to have their voting rights restored only after they have completed parole.
Felon rights restoration has long been a major agenda item for progressives nationwide. Cuomo's decision to exercise his unilateral power to expand ballot access — only after his primary opponent entered the race — suggests Nixon's challenge was a motivating factor in the decision.
Nixon, for her part, quickly blasted Cuomo's announcement as too little, too late.
"For eight years, Cuomo governed like a Republican — handing control of our state to his ultra-rich donors and the party of Trump," she said in a statement. "Now he's scared of communities all across New York who want to replace him with a real Democrat. We don't buy the governor's new song-and-dance routine. Voter suppression in New York should have ended eight years ago, from the rights of parolees to access to early voting and automatic registration."
However, voting rights isn't the only issue Cuomo has moved left on since Nixon announced her candidacy.
On April 4, Cuomo took a major step toward giving his party full control of New York's political system when he brokered an agreement to end the power-sharing arrangement between the state Senate's Republican caucus and a small group of Democratic apostates who sided with them to keep Senate Democrats from holding a majority in the chamber.
Progressives had long accused Cuomo of tacitly condoning the arrangement between Republicans and the conservative Democrats, known as the Independent Democratic Conference, because it allowed him to keep the state Senate's progressive wing at bay.
That was before Nixon made the IDC's control of state government a major part of her early campaign, essentially forcing Cuomo to take action.
Cuomo has also moved left on other key issues like housing policy — even as he attempts to avoid embracing other policies, such as marijuana legislation, that Nixon has endorsed.
These changes demonstrate a simple but time-tested principle in American politics: Contested primaries can help make politicians accountable to their base.
In the 2018 wave of candidates, progressives across the country have begun challenging incumbents in their home districts. But those candidates have seen almost no electoral success during primary season so far.
In Illinois, for example, a highly anticipated primary challenge against conservative Democratic Rep. Dan Lipinski ultimately failed, despite the fact his opponent had garnered considerable support from progressives across the country, including two members of Illinois' own congressional delegation.
Nixon may be proving that electoral success is less important than the impact primary candidates can have in shifting the conversation to the left — and reminding Democratic candidates in "safe" seats across the country to not take their incumbency for granted.