A Pittsburgh gay bar allegedly planned — and promptly canceled — a drag show for Hitler's birthday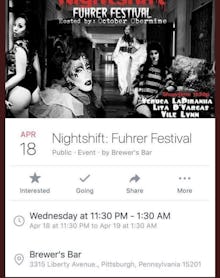 Until locals spoke up, Brewer's Bar — a "divey gay bar" in Pittsburgh, as one local described it — apparently had planned to host a "satirical" drag show tied to Adolf Hitler's birthday. The original description for the show reportedly encouraged patrons to "bring your small mustaches and significant other you want to do cyanide with."
After widespread criticism, Brewer's Bar seemingly deleted the event's page — and later, deleted the bar's public Facebook page altogether, according to a public comment thread discussing the events. But of course, this is the internet, and screenshots live on forever. Here is the original ad for the "Führer Festival," as screenshotted by Twitter user @MtthewRubiin. ("Führer" is the German word for "leader" and is typically used when referring to Hitler.)
This was the event's original description, according to Facebook user Ehrrin Keenan, who chronicled the whole situation in a public comment thread:
A party fit for a Fuhrer's birthday! Join October and this week's cast of Nightshift as we celebrate one special regime leader's birthday (technically April 20th). Bring your small mustaches and significant other you want to do cyanide with as we throw a party for for a Fuhrer!!
In a phone interview, Keenan said she exchanged several messages with the bar's Facebook page before it was deleted. A person who identified themselves as Sarah, a bartender at Brewer's and organizer of the event, told Keenan the "intent of the show was to make a satirical theme of the current government" and that she was "not trying to offend any group at all."
Mic called the phone number for Brewer's Bar listed online in an attempt to reach out for comment. The call went to voicemail and its outgoing message said the mailbox was full.