Legal troubles grow for Trump, as former 'Playboy' model can speak freely about alleged Trump affair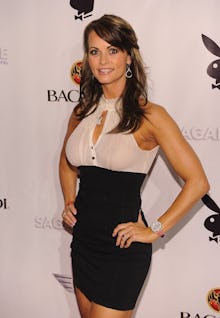 Welcome to Mic's daily read on Donald Trump's America. Want to receive this as a daily email in your inbox? Subscribe here.
Good morning from Emily Singer at Mic.
Here's what's happening in Trump's America:
• Former Playboy model Karen McDougal is now free to tell her story about her alleged affair with President Donald Trump, after the owner of the National Enquirer released McDougal from a contract that effectively bought her silence.
About last night: More legal troubles for Trump
Former Playboy model Karen McDougal can now speak freely about her alleged affair with Trump as well as the circumstances around how her story was effectively squashed from public view during the 2016 campaign. This is all a result of the parent company of the National Enquirer releasing McDougal from a contract that essentially bought her silence.
In August 2016 — in the throes of the presidential campaign — McDougal was paid $150,000 by American Media Inc., for her story about her alleged affair with Trump. AMI, which owns the National Enquirer, never ran her story, and in killing it essentially payed McDougal for her silence.
McDougal was suing to be released from that contract, and claimed in the lawsuit that Trump's personal lawyer Michael Cohen was involved in the contract negotiations with AMI — raising questions about potential campaign finance violations. The FBI raid of Cohen sought documents related to the McDougal contract, as well as another with porn actress Stormy Daniels.
On Friday, Trump issued a pardon to Scooter Libby, which experts said was meant as a sign to Trump aides caught up in federal investigations that he's willing to issue pardons — possibly to convince those same aides not to cooperate with investigators.
But New York Attorney General Eric Schneiderman is now seeking a rule change in his state that would allow him to prosecute those Trump may pardon for possible state crimes, which would diminish Trump's pardon power.
"Due to a little-known feature of New York law that appears to be unique in its reach, a strategically timed pardon could prevent individuals who may have violated our state's laws from standing trial in our courts as well," Schneiderman wrote in a letter to New York Gov. Andrew Cuomo and state legislative leaders.
Schneiderman said that unless the law is changed, "New York's statutory protections could result in the unintended and unjust consequence of insulating someone pardoned for serious federal crimes from subsequent prosecution for state crimes — even if that person was never tried or convicted in federal court, and never served a single day in federal prison."
Today in Trump's America: Trump to focus on drug trafficking
Trump will make a quick trip from his Mar-a-Lago resort in Palm Beach, Florida, to Key West, where he'll visit Joint Interagency Task Force South to hear about its anti-drug smuggling efforts.
The visit diverges from Trump's messaging tour to tout the GOP tax reform law, which Republicans hope will stave off possible losses in the midterm elections.
Capitol Hill happenings: House Republicans fret after Democratic candidates post massive fundraising hauls
House Republicans already had reasons to worry about the upcoming midterm elections in November, as a wave of Democratic enthusiasm threatens to push the GOP out of the majority it's held since 2010.
Now, Democratic fundraising reports from the first three months of the year have Republicans even more worried, as 60 Democratic challengers outraised Republicans in GOP-held districts, according to the Cook Political Report's Dave Wasserman.
The fundraising reports are problematic for the Republican Party, as it's defending a much broader number of House seats than Democrats in November.
And although Republican super PACs are raising big money, that cash won't go as far as campaign funds raised directly by candidates for a few reasons. First, election law prohibits super PACs and candidates from coordinating, meaning only money raised by candidates can be used in ads with a candidate making a direct plea to voters. Election law also gives candidates a better ad rate than super PACs, which allows candidate fundraising dollars to go further.
The recent special election in Pennsylvania's 18th District is a prime example of how a fundraising disparity could hurt Republicans. While GOP super PACs spent more than $10 million in the race, now-Rep. Conor Lamb (D-Pa.) raised a massive $3.9 million, which allowed him to keep parity with that ad onslaught.
And the rest…
Morbid: Arizona Republicans are trying to change state election laws in an effort delay a special election in Sen. John McCain's seat, should McCain die before the midterm elections.
McCain is currently in Arizona, where he's recovering from treatment for brain cancer. If he were to vacate the seat by May 31 — whether by resignation or death — a special election would be held that coincides with current midterm election dates. Arizona Republicans are attempting to change the rules so that the election couldn't be held concurrent with the 2018 midterms, and instead would leave the Republican governor's appointed replacement in the seat.
Speaking of Arizona elections…: Republican outside groups have been spending hundreds of thousands of dollars in an upcoming special election in Arizona's 8th District, a seat Trump won by a 21-point margin in the 2016 presidential election. The special election, which will be held Tuesday, is to replace GOP Rep. Trent Franks. He was forced to resign after reports surfaced that he'd asked female staffers to be surrogates for his baby. If the GOP has to defend seats that lean this far in their favor in November, the party is in for a world of hurt.
Ted Cruz troubles: A new poll out Wednesday says the Texas Republican senator is vulnerable in his re-election fight against his Democratic opponent, Rep. Beto O'Rourke.
Tax cut fight: House Republicans want to pass a bill that makes permanent the individual tax cuts from the GOP's tax reform law. Senate Republicans, however, don't want to take up that bill, thinking it would give vulnerable Senate Democrats up for re-election this fall a good line to campaign on.