Nubian Skin, the pioneers of inclusive nude lingerie, on what the industry is still missing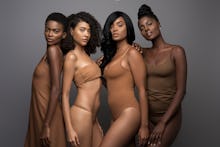 Like many businesses, Ade Hassan's was birthed from frustration.
She was working in the corporate world in London, in roles in which pantyhose and neat button-down shirts were essential parts of the necessary wardrobe. But because of her skin tone, she was having a much more difficult time sticking to that uniform than her lighter-skinned counterparts.
"I couldn't find something like skin-toned pantyhose, and when I asked in stores, they told me 'Well, you can just wear black ones,'" Hassan said in an interview with Mic. "When it came to thinner shirts that could be sheer, then again I was faced with not having something underneath that matched my skin."
Hassan had always wanted to start her own business, and had long been interested in fashion. This was her way in.
"Nobody was doing this kind of lingerie, and I knew how much I wanted it and I knew there were people who wanted it and cared about it," Hassan said. "It made sense to try."
In 2014, she launched Nubian Skin, one of the first companies that specialized in nude undergarments in various skin tones, with bras and underwear. At first, she was keeping her business quiet, thinking that she would just set up a website and have a direct-to-consumer, e-commerce business.
A campaign starring four black women of different skin pigmentations, all wearing Nubian Skin bras and underwear that matched their skin exactly, changed that.
"It went viral," Hassan said. "It was the perfect time when social media and Instagram had become a huge thing. I can always credit the hundreds of thousands of predominantly black women who reposted and shouted out about us. I started with 50 followers and in four weeks we were at 20,000. It was literally women saying 'This is cool,' and tagging us in things and posts. Then all the press came looking."
A stamp of approval from Beyoncé didn't hurt either. For her Formation World Tour in 2016, Beyoncé's team asked Nubian Skin for bras and briefs for both Bey and her dancers.
The success Nubian Skin saw almost immediately after launching can't help but make you wonder: Why did it take so long for a company like this to come along?
"I always say it may have not been deliberate, but I think a lot of it has to do with who's in the room," Hassan said. "A lot of large lingerie brands are owned by white men. When nude is selling well, they may think, 'Well, nobody in my life is having hard time finding nude lingerie, obviously.' They didn't know we were having this problem."
A major side effect of such success in this industry, however, has meant that other (sometimes much larger) companies have jumped in on Nubian Skin's mission to bring more inclusive nude lingerie to the masses. Naja, for example, started stocking inclusive nude lingerie in 2016. In 2017, in came Target, Aerie and beingU. Literally last week, Asos, which once stocked Nubian Skin, launched its own line of inclusive bras, underwear and bodysuits.
While Hassan is thrilled that more women now have access to these kinds of products, competition does worry her.
"Obviously for the consumer it's great because they have more choice, but for us it's terrifying," Hassan said. "It's scary to see a very large brand buy all your colors and have them down the line. What I am most proud of is that we've really opened up that conversation in the industry of what women still need."
Nubian Skin has learned how to remain competitive within this market by evolving with what its customers are asking for. While other companies just started jumping into inclusive nude undergarments, Nubian Skin started offering hosiery, camisoles, slips, bodysuits, shoes and a more extensive underwear and bra size range for its customers, up to a G cup.
Even with all these options and new products, Hassan knows there's still plenty missing for her customers.
"I think we will achieve parity when you can find anything that's now stocked in just traditional nude in a wide variety of nudes," Hassan said. "It's about having variety, in both shade and size I think. Where we're at now, a company stocks a line in different shades of nude and thinks they're done. That's pandering. That's not addressing what the issue is, which is not having women of color helping you make decisions, or even thinking of women of color as your customer."
Beyond inclusive nude lingerie, Hassan sees plenty other gaps in the lingerie market as well, which she hopes brands will take on with just as much vigor and excitement.
"There's so many things people still need solutions to," Hassan said. "It's everything from nursing bras to mastectomy bras. Even certain sizes of bras that people have a hard time finding, whether it be being very small or bras with a small band and a larger cup. There's so many other angles brands can look at."
What Hassan hopes for the future of Nubian Skin, which is less than four years old and remains a pioneer in this space, should make her customers very happy, and the industry should take even more notice.
"We want to expand our coloring even more," Hassan said. "I think there's still a lot of people who we're not targeting and I would love to have a store presence. When you meet people who care about the brand and who really just want to touch and feel our stuff, that's a magical experience. I want to create a space where our customers could feel comfortable and have a positive experience with lingerie."