With fresh legal trouble, Trump's lawyer drops lawsuits against 'BuzzFeed' and Fusion GPS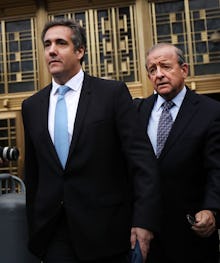 President Donald Trump's personal attorney Michael Cohen has dropped a pair of libel lawsuits against BuzzFeed and Fusion GPS over the now-infamous Steele dossier, citing the need to focus on the federal investigation that's now consuming his legal team, Politico reported Thursday morning.
Cohen was in the process of suing both BuzzFeed and Fusion GPS over the dossier, saying it falsely claimed he'd secretly met with Russian operatives in Prague in order to "clean up the mess" about Trump campaign officials' reported ties to Russia. Fusion GPS, a research and strategic firm, compiled the dossier and BuzzFeed initially reported on it.
However, Cohen has now found himself in legal jeopardy after the FBI raided his home and office on April 9. The FBI is reportedly looking into payments Cohen helped facilitate to two women who claimed to have had affairs with Trump.
David Schwartz, Cohen's attorney, told Politico that the decision to end the cases was difficult.
"We believe the defendants defamed my client, and vindicating Mr. Cohen's rights was — and still remains — important," he said. "But given the events that have unfolded, and the time, attention and resources needed to prosecute these matters, we have dismissed the matters, despite their merits."
BuzzFeed, however, declared victory in the dropped lawsuit.
"The lawsuits against BuzzFeed over the Steele dossier have never been about the merits of our decision to publish it," Matt Mittenthal, director of communications for BuzzFeed News, said in a statement to Mic. "If there's one thing Democrats and Republicans agree on today, it's that the dossier was an important part of the government's investigation into potential collusion between the Trump Campaign and Russia. Its interest to the public is, and always has been, obvious. Today's news suggests that Donald Trump's personal lawyer no longer thinks an attack on the free press is worth his time."
While Cohen denies that he met with Kremlin officials in Prague, McClatchy on Friday reported that special counsel Robert Mueller has evidence that the meeting in Prague did, in fact, take place.
Former British spy Christopher Steele authored the dossier, alleging collusion between the Kremlin and Trump. The dossier was made public in January 2017 by BuzzFeed days before Trump's inauguration. It also contained the salacious claim that Russians had a video of Trump in a Moscow hotel room with sex workers performing a "golden shower" show on a bed previously slept in by Barack and Michelle Obama, the former president and first lady.