New York attorney general seeks to close a loophole so he can prosecute Trump's pardoned associate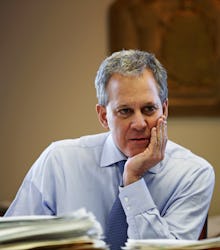 Amid reports of potential charges related to special counsel Robert Mueller's investigation into Russian interference in the 2016 election, President Donald Trump has been vocal about his belief that he has "complete power" to pardon any individual he wants.
Experts, however, have cautioned that the president is not allowed to extend a pardon for state crimes. This leaves state attorneys general with the option of prosecuting possible pardoned Trump associates.
Yet New York Attorney General Eric Schneiderman — who has been a major adversary to Trump and his administration — is indicating that a provision in New York state law could prevent him from prosecuting Trump's associates who may receive presidential pardons from the president.
In a letter sent on Wednesday to New York Gov. Andrew Cuomo and New York state legislative leaders, Schneiderman outlined the current New York law in question. The law, Schneiderman wrote, has a double jeopardy provision that could lead to insulating an individual pardoned for federal crimes from subsequent prosecution for state crimes.
"If a federal defendant pleads guilty to a federal crime, or if a jury is sworn in a federal criminal trial against that defendant, and then the president pardons that individual, this New York statute could be invoked to argue that a subsequent state prosecution is barred," Schneiderman wrote in the letter.
"Simply put, a defendant pardoned by the president for a serious federal crime could be freed from all accountability under federal and state criminal law, even though the president has no authority under the U.S. Constitution to pardon state crimes," he added.
Schneiderman asked Cuomo and the New York state legislature to change the law to ensure this possibility never arises.
Of course, Trump has not yet issued any pardons to his associates. However, according to a New York Times report on March 28, one of Trump's lawyers suggested the president could his pardon former campaign chairman Paul Manafort, and former Trump national security adviser Michael Flynn, in order to dissuade them from cooperating with Mueller's probe.
Flynn already pleaded guilty to lying to the FBI, and is cooperating with Mueller.
Manafort, however, is fighting the multiple crimes he's been charged with, and Schneiderman is working with Mueller in that case.
Schneiderman's letter seeking a change in New York law comes after Trump pardoned Scooter Libby, the former chief of staff to former Vice President Dick Cheney, who was convicted of lying to the FBI and obstructing justice in 2007.
Experts are saying that the Libby pardon was a message Trump was sending to his associates that he didn't view lying to the FBI and obstructing justice as serious offenses.
Mueller has secured multiple guilty pleas from Trump associates for lying to the FBI, and is currently investigating whether Trump obstructed justice when he fired now-former FBI Director James Comey.