How Nikki Haley finally fell into Trump's chaos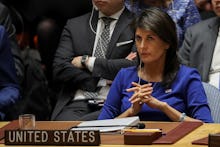 Nikki Haley lost her balance.
For more than a year, she'd managed to walk a tightrope at the United Nations, advocating both President Donald Trump's nationalistic vision and a more traditional Republican foreign policy — all while juggling her own grand political ambitions. And she did it without falling into the drama and chaos that has engulfed the Trump administration since he was inaugurated.
But that changed this week when the White House didn't follow through on the new Russia sanctions she'd promised on television Sunday — and then attempted to hang the blame for the mix-up on her.
"I think the issue here is we have a set of sanctions, and additional sanctions are under consideration but not been determined," Larry Kudlow, the president's new top economic adviser, told reporters Tuesday. "There might have been some momentary confusion about that."
"With all due respect," Haley said in a pointed statement to Fox News, "I don't get confused."
And with that, the U.N. ambassador who had largely avoided the public feuds so many others in this administration have become embroiled in, was suddenly drawn into the muck.
Kudlow eventually apologized to Haley, but the exchange highlighted what may be a growing rift between Haley and Trump over both foreign policy and her apparent aspirations. It also demonstrated that the precise qualities that have made her one of the standout figures in the Trump administration may also prove to be her biggest liability in her dealings with the president.
"That was an expression of independence," Stephen Schlesinger, a fellow at the Century Foundation and leading expert on the U.N., said of Haley's response to Kudlow. "It shows that she has her own standing in public life that she's not going to retreat from, and if she's pushed too much, she's going to make those kind of retorts."
"She has to toe a line"
Haley famously did not want to be Trump's secretary of state, citing a lack of foreign policy experience.
But as the U.S. envoy to the U.N., the ex-South Carolina governor quickly emerged as the face of the administration's foreign policy, outshining then-Secretary of State Rex Tillerson, then-national security adviser H.R. McMaster and Secretary of Defense James Mattis.
"In that quartet, she was the one who was most skillful at public relations," Schlesinger told Mic by phone. "She has that natural ability as a politician that none of the others have."
In that role, she's been both a reflection of Trump's nationalistic, "America First" agenda and, at least compared with her Cabinet colleagues, a more traditional foreign policy figure who wouldn't seem entirely out of place in a more normal administration.
"She seems to have balanced along that line in a very clever way," Schlesinger said.
On one hand, Haley has been in lockstep with Trump on a number of issues. She has been critical of the Iran nuclear deal, has supported pulling the U.S. from the Paris climate accord and echoed the president's harsh rhetoric on North Korea.
She has even expressed "disdain" for the U.N. — the very international body she represents the U.S. before — suggesting that she, like Scott Pruitt and Betsy DeVos, was installed by Trump seemingly to destroy those organizations from within.
"I find her tenure at the U.N. to be an embarrassment for the United States and yet another example of Trump putting people in positions to work in agencies or on issues which they despise," Stephen Miles, director of Win Without War, a progressive foreign policy advocacy program of the Center for International Policy, said in an interview. "It seems a hallmark of the Trump administration that the people in charge of government disdain government and are trying to do irreparable harm."
But on the other hand, she has also appeared in some ways to be more tethered to traditional Republican foreign policy than Trump.
She has, for instance, been a more vocal proponent of human rights than her boss. She also reportedly pushed him to remain in a U.N. migration pact, but was ignored in favor of a more nationalistic approach. On the domestic front, she has also broken with Trump on numerous occasions — most notably, perhaps, in her response to the deadly white nationalist riot in Charlottesville, Virginia, in 2017.
Trump received a tidal wave of backlash in August for initially waffling on his response to the racist rally, then defending some of the alt-right and neo-Nazi rioters in Charlottesville as "very fine people" and drawing a moral equivalence between them and the people who came out to protest the so-called "Unite the Right" demonstration.
But Haley — who was governor of South Carolina in 2015 when white supremacist Dylann Roof murdered nine people in a historically-black Emanuel African Methodist Episcopal Church in Charleston — was stronger in her response in an email to her staff obtained by CNN.
"Those who march spewing hate are few, but loud," she wrote. "We must denounce them at every turn, and make them feel like they are on an island and isolate them the same way they wish to isolate others."
Still, the largest policy gulf between Haley and Trump is likely related to Russia.
Trump — who remains under investigation for possible collusion between his campaign and the Kremlin — has publicly sought warmer relations between Washington and Moscow, and has frequently embraced Russian President Vladimir Putin.
But Haley is regarded as one of the biggest Russia hawks in the administration, and has long been particularly critical of Putin over his support for Syrian strongman Bashar Assad.
She's been especially critical of Russia in recent days following Assad's suspected chemical attack in the rebel-held Syrian city of Douma earlier this month. "If Russia had lived up to its commitment, there would be no chemical weapons in Syria and we would not be here today," Haley said in remarks to the U.N. Security Council on April 13.
After the U.S.-led airstrikes in Syria last week, Haley continued to condemn Russia: "We cannot stand by and let Russia trash every international norm that we stand for and allow the use of chemical weapons to go unanswered," she said Saturday.
Then, on Sunday, she told Face the Nation that the U.S. would be imposing a new round of sanctions against Russian companies related to Assad's chemical weapons use. But Trump was uncomfortable with the sanctions, according to the Washington Post, and decided not to roll them out — effectively undermining his most prominent foreign policy official.
"She has to toe a line between the more extreme Trump utterances on foreign policy and the more Republican orthodoxy," Schlesinger said. "It's a line that she's done pretty well at toeing, up until now."
"She has the capacity for broader appeal"
Still, her policy differences with the president may be a minor issue compared with her political aspirations — and Trump's well-known aversion to the ambitions of others.
Haley has long been presumed to have her eyes set on a future run for president — and in serving as ambassador to the U.N., the former South Carolina governor has added a crucial foreign policy credential to her resume. With a well-rounded background and natural charisma, she could be a formidable future candidate going forward.
"She has her detractors as any political figure does, but she's a survivor in my opinion," Scott Howell, a Republican strategist with experience in South Carolina politics, told Mic in an email. "She has the capacity for broader appeal."
But her political future may also depend on her ability to maintain a healthy distance from Trump, who has presented a liability for Republicans in general and seemingly poisoned former administration officials' professional prospects. In short, she seems to be playing to two audiences at once: she needs to act as Trump's surrogate to the U.N., but without associating herself too much with him in the minds of future voters.
So far, she's been largely graceful at pulling off this act of political gymnastics. Part of that may stem from working at the U.N. in New York, where she's been able to steer clear of the White House's messy internal politics. But she's also been deft in her political maneuvering, according to Schlesinger — working for Trump while also for herself.
That can pose its own political risks, however.
After all, Trump is known for demanding loyalty from others that he is unwilling to give in return. Further, he appears to despise being upstaged. As an example, look no further than his frustration last year with Steve Bannon, whom the New York Times editorial board once dubbed "President Bannon" for his perceived ambition and influence.
Just after Trump's inauguration, Time magazine ran his then-chief strategist on the cover billing him as "The Great Manipulator." Trump reportedly remained furious months later that Bannon was getting credit for his success and dismissed his contributions to his campaign.
"I'm my own strategist," Trump told the New York Post in April 2017.
Trump has mostly refrained from publicly going after Haley in the same way, though he has made remarks about her that seem to serve both as a joke and as reminder of who's in charge.
"Does everybody like Nikki?" Trump asked ambassadors to the U.N. security council at a lunch last year. "Otherwise she could be easily replaced."
But now, according to the Times, Trump is growing "suspicious of her ambition," believing that she is aiming for Tillerson's old job — or perhaps even his. There have even reportedly been rumors inside the White House about Haley and Vice President Mike Pence mulling a 2020 run.
"It's an adept performance, but it may be catching up with her," Schlesinger said of her political balancing act. "She may be tilting too far toward her own ambitions."
"I hope she survives this shit show"
What the Russia sanctions debacle — and the gulf between Haley and the White House — will mean going forward is unclear.
The episode could undermine Haley's authority on the world stage, as the miscommunication may raise questions as to whether or not Haley is truly speaking for the White House.
"The lesson that Trump will always turn on even the best of his people is one she had to learn painfully," Rick Wilson, a Republican strategist and vocal Trump critic, told Mic by email. "This was an embarrassing, unforced error that happened because Kudlow is the new pet, and shot his mouth off."
But Schlesinger said he believes U.N. delegates see Haley as conveying Trump's vision — and will likely continue to do so after the sanctions mixup.
It's also remains to be seen if Haley will retain her influence on Trump's foreign policy team. As Politico notes, she is an ally of John Bolton — Trump's hawkish new national security adviser — and appears to share a worldview with Mike Pompeo — Trump's pick for secretary of state. But if Pompeo passes a tough Senate confirmation, she could see her role "diminished," according to Schlesinger; Pompeo has long been regarded as one of the president's strongest allies.
Haley said following her exchange with Kudlow that her relationship with Trump is "perfect." But the episode has suggested it may be anything but — and, for the first time, dragged Haley down into the Trump administration's public political chaos.
"Haley is one of the few bright lights in the Trump orbit," Wilson told Mic. "She's not from the Trumpist movement; she was a smart, conservative governor in a deeply red state and left office with sky-high approval ratings and was held in very high regard."
"I hope she survives this shit show."