Here's everything you missed from week two of Bill Cosby's sexual assault retrial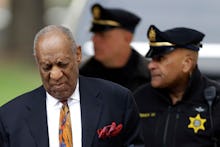 A jury of seven men and five women are expected to begin deliberations in the Bill Cosby sexual assault retrial next week.
Andrea Constand has accused Cosby of drugging and sexual assaulting her in his suburban Philadelphia home in 2004. The comedian is charged with three counts of aggravated indecent assault and could face 10 years in prison if convicted.
Judge Steve O'Neill is expected to rule Monday whether the defense can read a 2005 deposition from Sheri Williams, a friend of Constand. Constand said she was in contact with Williams when she brought her allegations to police in January 2005. The defense said Williams' deposition will show that Constand "could not have been the unwitting victim" during her alleged encounter with Cosby, the Associated Press reported.
Here is everything else you need to know about week two of Cosby's retrial.
Cosby's travel records revealed to jury
On Friday, day 10 of the retrial, Cosby's defense told the jury the comedian's travel records prove he was not staying in his Philadelphia home in January 2004, the month he allegedly assaulted Constand, USA Today reported. The flight log for his private jet were made available to the jury.
Cosby was charged in December 2015, a month before the 12-year statue of limitations on the case would have terminated.
An assistant for the comedian confirmed that the flights Cosby took were related to shows he was booked for. The records don't show whether Cosby traveled into or out of Philadelphia-area airports between December 2003 and February 2004, the AP reported.
Drug experts testify
Jurors heard from two drug experts Thursday, one brought by the prosecution and one brought by the defense to discuss the side effects of both Quaaludes and Benadryl, a medication used to treat allergies which Cosby told police he gave Constand.
Cosby's attorneys called Dr. Harry Milman, who testified that in 2004, the year of Constand's alleged assault, Quaaludes were banned and consumers could not buy them in Philadelphia. He also told the jury that Benadryl "is one of the safest drugs on the market," Reuters reported.
Earlier in the day, the jury heard from drug expert Timothy Rohrig, who said Benadryl or Quaaludes could have made Constand feel dizzy the night Cosby allegedly assaulted her.
Constand said she asked Cosby what medication he had given her two months after the alleged incident, but he would not tell her. During his 2005 deposition, however, Cosby admitted to giving Quaaludes to women in the 1970s.
On Thursday morning, Judge Steven O'Neill denied Cosby attorney's fifth motion for a mistrial because prosecutors implied that Marguerite Jackson, a former colleague of Constand, came up with her testimony with the help of Cosby's attorneys.
Quaaludes
On Wednesday, a detective read further from Cosby's 2005 deposition in which he admits to giving women Quaaludes, the Washington Post reported.
"Quaaludes happen to be the drug that kids, young people were using to party with, and there were times when I wanted to have them just in case," Cosby testified, according to the transcript.
Marguerite Jackson
Also on day eight, Marguerite Jackson, a former Temple University colleague of Andrea Constand and a key witness for Cosby's defense team, took the witness stand.
Jackson said during a road trip with the Temple women's basketball team, Constand told her that she was assaulted by a "high-profile person" but did not report it to authorities because she thought no one would believe her.
Jackson testified that she suggested Constand report the alleged assault but, immediately after this, Constand denied the incident, saying, "No it didn't, but I could say it did. I could say it happened, get that money. I could quit my job. I could go back to school. I could open up a business."
Prosecutors said that Cosby's defense helped Jackson create the claim that Constand is trying to swindle money from Cosby, USA Today reported.
Judith Regan
Book publisher Judith Regan, who worked with Janice Dickinson on her 2002 memoir No Lifeguard on Duty, said that she did not include the full story on Cosby in Dickinson's book because of the legal dilemma it could bring about.
"I remember at one point she told me she'd been raped by Mr. Cosby, drugged and raped, and she wanted to include that in the book," Regan told the jury, according to the Daily Beast. "And at that time I told her… after conversations with the legal department, without corroboration those sorts of stories would be impossible to publish because of potential legal problems."
In the published book, Dickinson only mentioned that she went to Cosby's Lake Tahoe hotel, but made no mention of the alleged rape.
Regan said she believed Dickinson's claims about Cosby and described her story as "credible because of the way she told it, with great emotion."
Cosby's deposition
On Tuesday, day seven of Bill Cosby's retrial, Cosby's sexually graphic 2005 deposition, which describes his encounter with Constand, was read to the jury. In the testimony, Cosby said as he touched her, he was waiting for her to respond, according to USA Today.
"I'm giving Andrea time to say 'yes' or 'no' about an area that is right there in the question zone," he said.
"I don't hear her say anything. And I don't feel her say anything," he continued. "And so I continue, and I go into the area that is somewhere between permission and rejection. I am not stopped."
Detective James Reape
Detective James Reape told the jury Tuesday that details in Cosby's deposition aligned with Constand's testimony.
"The defendant said it happened in 2004," Reape said. "The defendant said he was present. The defendant admitted to the contact that she said happened," Reape told jurors, according to USA Today.
Gianna Constand
Gianna Constand, Andrea Constand's mother, told a jury Monday afternoon that when her daughter moved back home from Temple University in March 2004, she felt something had changed about her. After Andrea told her that Cosby drugged and sexually assaulted her, she called and ask him what kind of drug he gave her.
She said that Cosby told her, "'I felt like I was a dirty, old, perverted man' and then, near the end of the conversation, as before I feel like he surrendered and he admitted to me that he was a sick man," Jezebel reported.
During cross-examination, Cosby's defense lawyer Kathleen Bliss pressed Constand on her family's motivations to reach out to law enforcement after Andrea made the revelation about Cosby allegedly assaulting her. Constand denied that her daughter was seeking to financially exploit Cosby.
"This isn't about money, Miss Bliss!" Constand said, according to Jezebel.
Andrea Constand
Andrea Constand began testifying on Friday and sat down again on the witness stand Monday morning. Defense lawyers asked Constand about details she previously gave police.
For instance, in 2005, Constand told police she had called Cosby from a cell phone supplied to her by the university, but records show there was no calls made to him from that number
Constand told the jury that she may have called him from another number she used frequently and added that Cosby sometimes left his house gate open for her.
During cross-examination, defense attorney Mesereau reportedly sought to portray Constand as being in an inappropriate romantic relationship with Cosby, who is married.
Mesereau asked, "You think you called Mr. Cosby to talk about basketball?" according to USA Today. Defense lawyer cited phone calls she made to Cosby on Feb. 14, 2004. But Constand said she saw Cosby only as a mentor.
As the Cosby retrial continues, Mic will be following developments in court each week. Here's everything you missed from week one of Bill Cosby's sexual assault retrial.