'RuPaul's Drag Race' season 10, episode 5: Mayhem Miller exit interview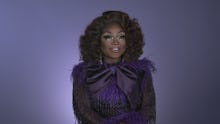 Five down, eight to go.
No shade to the previous eliminated queens, but the elimination of Mayhem Miller during Thursday night's RuPaul's Drag Race felt like the first ousted queen who seemed to have a real chance of advancing all the way to the finale.
And when it's all said and done, Miller's legacy will be about her inability to bring it, as this queen certainly comes with the credentials: She's been a practicing drag queen since 2002 and has auditioned for every season of the show since season 2. And with so much of her drag family having already appeared on the show (Raven, Morgan McMichaels, Detox and Delta Work), Mayhem felt like a sure bet to make it far in the competition.
But after first falling behind during week three, having to lip sync against Yuhua Hamasaki, week five saw another misstep, allowing her scene parter Miz Cracker to steal the spotlight meant to be shared by them both during the night's maxi-challenge.
The runway look, unfortunately, failed to impress.
"It kinda missed the mark for me," judge Michelle Visage noted to Mayhem on the runway, commenting on the pink denim fabric not looking denim enough (part of the rules of the challenge.) "It just looks too juvenile," she explained. Once Mayhem left the runway, during the judges' critiques, Visage wasn't done: "Mayhem is sort of coasting right now," she said.
As Asia observed during Untucked, despite Mayhem knowing she'd be in the bottom two, she seemed to be in a good place about it. "I had so much fun with the challenges we did this week," Mayhem said to the girls. "I really felt like I was in my zone; in my element, and maybe I did not go as big as they would have liked me to go. I thought we did amazing. I guess that's why I don't look like I'm upset or scared or anything."
But up against this season's lip sync assassin, Monét X Change, Mayhem's high-energy, low-surprise-and-delight lip sync made her unable to steal, let alone share the spotlight with X Change.
Mic spoke with Miller following Thursday night's episode about the elimination and what's next for her drag career.
Mic: Mayhem, what the fuck?
Mayhem Miller: [Laughs}
I expected to see you at least down to the top three.
MM: Isn't it shocking? I was definitely shocked because I went into the competition knowing that I would definitely make it to the end. I was not ready to go.
You watched the show at Mickey's in WeHo, one of your signature spots, and you sang Whitney Houston's "I Have Nothing." Can you describe that moment, both performing that song and watch your inevitable fate play out before your hometown crowd?
MM: It's one of my favorite songs to do because the audience always recognizes it because it's an iconic song and the lyrics really resonate with me, and especially in that moment, because I truly don't have nothing without the people who love and support drag. They're the ones who push us and support us and keep us from having to walk the streets at night.
"Sometimes I forget why I started to do drag," you told the girls during Untucked, "and it was because it's fun and so if I'm having fun then I know that everyone around me is probably having fun as well and I shouldn't be stuck in my head." Do you feel like you were true to that, or did you get stuck in your head at all?
MM: Yes and no. You're definitely always in your head. Everyone always says don't get in your head when it comes to Drag Race but the thing is you're always in your head because you're left with your thought, that's all. You're competing with a bunch of strangers that you don't know and you all have the same goal in mind. So you have to think, "What am I going to do to win?" So you're constantly thinking, "What can I do to set myself apart from everyone?" So yeah, I was in my head, but I don't think it was kicking me off the competition; I think it was keeping me in the competition.
During the very tense showdown between Vixen and Eureka last week, you seemed very keen to suck on that straw and stay out of it. You've borne witness to a lot of tense moments on Untucked so far this season. What are your thoughts on some of the queen-on-queen fighting that audiences have been witnessing?
MM: It sucks to see people going at each other like that — but I'm happy that the conversation was at least brought up because it is an underlying factor, when it comes to Drag Race and the fans of Drag Race ... the underlying issue of race. And the mistreatment that some of the queens of color face.
We saw both Asia and Eureka comfort Monet leading up to the lip sync but got little footage of you. Did you have any side conversations with the girls, and if so what was said?
MM: Actually, no, I didn't have any side conversations. I put my headphones in, put my tunnel vision on and it was game on, "show me what you got."
What were you thinking when you saw Monet pull out the spray can bottles? Did any part of you think, well damn, I need to pull something out too?
MM: Absolutely not. I'm a queen who strongly believes that gimmicks are a cheap way to entertain. I feel like you should do what you got to do, and pull focus through knowing your lyrics and dancing your ass off and projecting your character. When you use gimmicks it just gives a quick response from viewers and audience — not saying anything bad about her performance, it's just not my style.
I really can't think of any queen who seemed to want this as much as you did, and not just for yourself, but for the legacy of your drag family. Did you feel the weight of your sisters bearing down on you?
MM: Definitely. I had to fill some big shoes coming from a legendary group of talented queens. I wanted to show the world why I'm friends with these people; why we've all been together as a group for so long. We all are talented but this was my opportunity to show everyone why.
Tell me one thing you learned about yourself throughout this process?
MM: I have learned to always trust your gut. I have learned that anything is possible if you truly and fullheartedly believe in yourself. Keep pushing even through the bad times, adversity. You got to see the light at the end of the tunnel and not give up on yourself and keep pushing. Even when you don't think you have anything left in you, you do. You got to focus on yourself and trust because hey, you can do anything.
Who are you rooting for this season now that you're gone?
MM: That's a hard one because I like all the girls.
But...
MM: But in all honesty I feel like Miz Cracker has the full package that will do the brand of Drag Race a lot of justice. She will carry the title with poise and dignity and have the talent behind it to maintain the legacy.
Looking back on this experience, what for you was the high and what for you was the low?
MM: Definitely the high was episode one. I could have went home right after that and been just as happy as I am today, just making it onto the show and seeing a dream come true and seeing hard work being rewarded was everything to me. Winning that first challenge really cemented everything for me. As for the low, besides going home, I guess not really pushing myself to be as vibrant and loud as some of the other girls. I was so focused on doing a good job and being polished and being the perfectionist that I am that I was missing out on making connections to the other girls.
What's next for Mayhem Miller?
MM: Me taking over the world. I'll certainly be doing all of my vocal work here in Southern California. I'll also be working on music. I want to continue acting and doing movies and television. Now I got bit by the bug so I want to keep doing it.
Check out Mic's exit interviews with week one eliminated queen Vanessa Vanjie Mateo, week two's eliminated queen Kalorie Karbdashian Williams, week three's eliminated queen Yuhua Hamasaki and week four's eliminated queen Dusty Ray Bottoms.