Inspector general recommends criminal charges against fired FBI deputy Andrew McCabe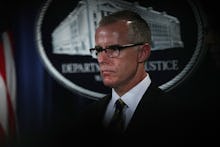 The Inspector General of the Department of Justice has reportedly submitted a criminal referral regarding Andrew McCabe — the fired deputy FBI director who allegedly "lacked candor" with internal investigators about media disclosures.
According to CNN, the referral was sent to the United States attorney's office in Washington, D.C.
The U.S. attorney will now decide whether to charge McCabe with lying to federal investigators, according to NBC News.
News of the referral comes less than a week after Inspector General Michael E. Horowitz issued a scathing report concluding that McCabe allegedly misled internal investigators and former FBI Director James Comey about a 2016 Wall Street Journal piece on an investigation into the Clinton Foundation.
McCabe allegedly improperly authorized aides to provide information to the WSJ about internal discord over the probe into Hillary Clinton's family charity and repeatedly denied doing so when pressed by investigators, Horowitz found.
McCabe — who briefly served as acting director of the FBI following Comey's firing — was dismissed by Sessions ahead of the report, days before he was set to retire.
President Donald Trump, a frequent critic of McCabe, cheered his termination as a "great day for Democracy."
In a fiery statement at the time, McCabe said his firing was part of the Trump administration's "larger effort not just to slander me personally, but to taint the FBI, law enforcement and intelligence professionals more generally."
Trump often attacks the FBI and other federal authorities in what appears to be an effort to undermine special counsel Robert Mueller's Russia probe.
According to the Washington Post, the criminal referral was submitted a while ago, but it is not clear if the U.S. attorney in Washington will pursue charges.
A conviction on lying to federal investigators could be punished by up to five years in prison, according to the Post.