Kanye West is releasing two new albums in June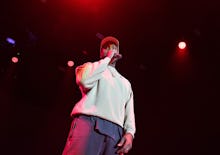 Kanye West is returning to music in June. On Thursday, Kanye West tweeted that he is releasing two new albums: His follow-up to 2016's The Life of Pablo will arrive on June 1, and a collaborative album with fellow rapper Kid Cudi called Kids See Ghost, also the duo's name, will arrive on June 8.
West said his new solo album has seven songs and shared no further details.
On Friday, West resurfaced on Twitter almost a year after fans noticed he deleted his account on May 5, 2017. Since his return, he's posted a bevvy of TED talk-style philosophical musings on life and creativity. West wrote Wednesday that as he tweets, he's also writing a book in real-time.
"Oh by the way this is my book that I'm writing in real time," he wrote. "No publisher or publicist will tell me what to put where or how many pages to write. This is not a financial opportunity this is an innate need to be expressive."
West has been speculated to be working on new music since May 9, 2017, when TMZ reported that he was hiding out at a Wyoming retreat, which also possibly explained his social media break. Back in March, several rappers were spotted in Wyoming visiting the retreat, including Travis Scott, Kid Cudi and Nas, which only drove rumors that a new album would be on the way.
Cudi and West have have a very public and off-and-on friendship, their most recent beef being in September 2016, when West blasted Cudi publicly for a Twitter rant in which Cudi counted West among his "haters" in the music industry. But by November 2016, West and Cudi had apparently cleared the air, when they performed together during West's Saint Pablo Tour. In November 2017, Cudi returned the favor and brought Yeezy on stage during his Passion, Pain & Demon Slayin' tour.
Now fans can hear the two rappers solidify their reunion on wax in June, along with a new solo record from West.