While you weren't looking: 5 stories from the Trump administration that aren't about James Comey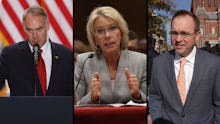 This week the news was once again consumed by the multiple investigations into President Trump and his associates, with yet more news coming out of the investigation into Trump's personal lawyer Michael Cohen. And of course we saw the spectacular return of James Comey, whose primetime television interview, book tour and recently released memos hoisted the former FBI director back into the spotlight.
But as all that was taking place, a series of scandals and major policy decisions from Trump's cabinet officials largely went unnoticed. Here are five big stories you might have missed.
Betsy DeVos moves to push military families into voucher program
Education Secretary Betsy DeVos is now working to switch to vouchers for school funding for our nation's military families, and many of them are not happy about it.
On Wednesday, U.S. News and World Report reported that DeVos was meeting with Defense Secretary James Mattis to discuss a plan that would change the way schools on military bases are funded.
Currently military bases and other tax-exempt places fund public schools through a $1.3 billion Impact Aid program. DeVos' plan would reallocate that money for vouchers that families could use to send their kids to private schools.
In a letter to Congress, the military advocacy group The Military Coalition wrote that the plan would be, "financially devastating for many school districts" and would critically compromise "the quality of the education they could provide to military children and their civilian classmates."
CFPB lets payday lender accused of stealing millions off the hook
The Consumer Financial Protection Bureau announced in its latest report to Congress that it would be dropping its enforcement actions against a business group that is accused of running an international online payday lending scheme.
The group, known as NDG Financial Corp, is accused of violating U.S. usury laws, and employing deceptive and abusive practices to collect from borrowers.
This is just the latest in a series of dropped enforcement actions from the CFPB. As Vox reports, the CFPB dropped lawsuits and a probe against at least five other major payday lenders this year.
The former chief of one of those lenders had a cozy enough relationship with interim CFPB Director Mick Mulvaney that she went so far as to ask him if she could have his job running the CFPB when he was done with it.
Ryan Zinke is pretending to be a geologist
It's been discovered that Secretary of the Interior Ryan Zinke lied about his credentials on multiple occasions, telling people that he is a geologist, when in fact his is not and has never been.
An analysis by CNN found at least 40 occasions in which Zinke claimed to be a geologist, frequently using it to boost his credentials on issues like resource extraction, which his department deals with frequently.
While attending the University of Oregon on a football scholarship, Zinke majored in geology — a major he claims in his autobiography to have chosen at random.
After college, Zinke went directly into the Navy, where he served for 23 years before entering the world of business and then politics. The Interior Department defended Zinke's claim in a statement, citing his bona fides.
"Ryan Zinke graduated with honors with a B.S. in Geology," said interior spokesperson Heather Swift. "His intended career path was underwater geology — and he had college jobs to support that career. Upon graduation he was recruited to be an officer in the US Navy SEALs where he proudly served for 23 years and retired with the rank of commander."
Pruitt flew coach when he wasn't flying on the taxpayer's dime
Environmental Protection Agency Administrator Scott Pruitt previously came under intense scrutiny for buying expensive first-class tickets because he was concerned that the people in coach were too mean to him.
Now the Associated Press is reporting that Pruitt wasn't all that scared of the passengers in the back of the plane when he was the one paying for the ticket.
According to the AP, Pruitt flew coach on at least two flights back to his native Oklahoma that were not being payed for by the U.S. government.
Copies of Pruitt's schedule released to the public show that twice during the fall, Pruitt flew home using Southwest Airlines, which does not offer first-class seats.
Pruitt previously claimed that the first class tickets he bought for government business were because of safety concerns after at least one passenger yelled at him, telling him "You're fucking up the environment."
ICE arrests and detains man with Down Syndrome
Immigration and Customs Enforcement officials arrested and detained a 22-year-old man with Down Syndrome in a recent raid, the Miami Herald reported Tuesday.
Juan Gaspar-García, a Guatamalan-born undocumented Florida resident, was picked up in a raid by ICE along with 27 other individuals.
Though he arrived in the country as a minor, Gaspar-García is not protected under the Deferred Action for Childhood Arrivals program, because he didn't apply for it.
ICE released a statement on the arrest which read in part, "ICE does not exempt classes or categories of removable aliens from potential enforcement. All of those in violation of the immigration laws may be subject to immigration arrest, detention and, if found removable by final order, removal from the United States."