Comey's memos backfire on Republicans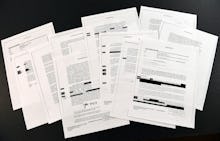 Welcome to Mic's daily read on Donald Trump's America. Want to receive this as a daily email in your inbox? Subscribe here.
Good morning from Emily Singer at Mic.
Here's what's happening in Trump's America:
• On the 19th anniversary of the Columbine shooting, students are planning mass walkouts across the country to demand more gun control measures.
About last night: Comey memos leak after DOJ hands them over to Congress
The memos James Comey wrote after his multiple meetings with President Donald Trump are now public, after congressional Republicans demanded the FBI hand them over to congressional investigators. The investigators immediately turned around and leaked them to the public.
The biggest takeaway? Confusion as to why Republicans were so eager to make the memos public in the first place.
Much of what is in the memos has already been publicly reported and served to show that Comey has been telling the same story publicly as is depicted in his memos.
However, there is some new information included in the memos that's unflattering to Trump.
The memos paint a picture of Trump as a man obsessed with the Steele dossier and its allegation that he watched Russian prostitutes urinate on a bed in a Moscow hotel. At one point, Trump even tells Comey that Russian President Vladimir Putin said Russia had "some of the most beautiful hookers in the world" — a revelation that raises more questions than it answers about the Moscow hotel incident.
The memos also show both Trump and former White House chief of staff Reince Priebus were concerned about then-national security adviser Michael Flynn, who has now pleaded guilty to lying to the FBI and is cooperating with special counsel Robert Mueller's investigation. Trump said Flynn is a guy who has "serious judgment issues."
The memos also reveal that Trump was obsessed with the leaks coming from the White House and even suggested jailing reporters to try and put a chilling effect on publishing leaked information.
"I said I was eager to find leakers and would like to nail one to the door as a message," Comey said in the memos. "I said something about it being difficult, and he replied that we need to go after the reporters and referred to the fact that 10 or 15 years ago, we put them in jail to find what they know and it worked."
Republicans, for their part, are trying to say the memos exonerate Trump from obstruction and collusion allegations — a bizarre claim given the obstruction investigation stems from Comey's firing, not from the Comey memos.
"The memos also show former Director Comey never wrote that he felt obstructed or threatened," GOP Reps. Bob Goodlatte, Trey Gowdy and Devin Nunes said in a statement.
Trump has also tweeted about the memos, but his tweets don't really make much sense, given what the memos reveal.
"James Comey Memos just out and show clearly that there was NO COLLUSION and NO OBSTRUCTION. Also, he leaked classified information. WOW! Will the Witch Hunt continue?" Trump tweeted Thursday night, criticizing Comey for leaks when the memos were leaked in full only after congressional Republicans received them.
Trump's tweets about the memos continued Friday morning, when he tweeted about how Flynn has been treated unfairly — despite having criticized Flynn, according to the memos.
"So General Michael Flynn's life can be totally destroyed while Shadey James Comey can Leak and Lie and make lots of money from a third rate book (that should never have been written)," Trump tweeted early Friday morning. "Is that really the way life in America is supposed to work? I don't think so!"
Today in Trump's America: Students plan massive walkouts on gun violence
Students from more than 2,000 schools across the country plan to walk out of their classrooms at 10 a.m. local time on Friday to protest the lack of action on gun control measures in the wake of mass shootings across the country, according to the New York Times.
The walkout is the latest in a series of actions students have organized since the deadly mass shooting at Marjory Stoneman Douglas High School in Parkland, Florida.
The news comes as polls show the issue of gun control fading from voters' minds.
While polls show that a majority of Americans still think stricter gun control measures should be passed, the issue is becoming less of a factor in who voters will cast a ballot for in the 2018 midterm elections, according to an NPR/PBS NewsHour/Marist poll published Thursday.
The poll showed 46% of voters said a candidate's gun control position will be a "major factor" in determining their vote — a 13-point drop from February, right after the Parkland shooting. That drop is steepest among Democratic voters. In February, 74% of Democratic voters said a candidate's gun positions were a major factor in deciding their vote. That number dropped 21 points to 53% in the NPR/PBS NewsHour/Marist poll.
Capitol Hill happenings: Recess
Being a member of Congress is nice work, if you can get it.
Congress is gone for the week, as the Senate left Washington before 5 p.m. on Thursday, while the House fled town on Wednesday and won't return until Tuesday.
And the rest…
Rudy returns: Trump hired longtime friend and former New York City Mayor Rudy Giuliani to be a member of his legal team, tasking Giuliani with "quickly" resolving the Mueller investigation, the New York Times reported.
Scott Pruitt: The hits keep on coming for Environmental Protection Agency administrator Scott Pruitt. The Associated Press reported Thursday that Pruitt flew coach when he was using his own funds for flights, but flew first class when on the taxpayers' dime. That blows a hole in Pruitt's claim that he needed to fly first class for safety issues.
Really? Trump on Thursday said "Human trafficking is worse than it's ever been in the history of the world." It was a bizarre comment, given that the U.S. imported slaves for years.