Measures defunding teen pregnancy prevention and Planned Parenthood struck down in federal court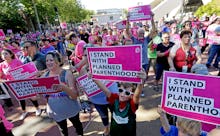 The Trump administration's attacks on women's health came under fire in court Thursday when a federal judge struck down a move to strip funding from teen pregnancy prevention organizations.
A federal district judge in Washington, D.C., ruled in favor of four organizations whose funding was taken away by the Department of Health and Human Services, ordering the HHS to accept and process the grantees' applications. The organizations' funding was provided through the federal Teen Pregnancy Prevention Program.
The lawsuit was brought against the HHS by consumer rights group The Public Citizen on behalf of organizations Policy and Research LLC, Project Vida Health Center, Sexual Health Initiatives for Teens and the South Carolina Campaign to Prevent Teen Pregnancy. In the lawsuit, the plaintiffs claimed that the HHS's decision to strip funding without a reasonable explanation was "arbitrary, capricious," and in violation of the Administrative Procedure Act, as well as an "unlawful impoundment of appropriated funds" and harmful to the organizations' work and the communities they serve.
The organizations named in the lawsuit were four of 81 total grantees whose five-year federal grants, initially set to expire in 2020, were suddenly terminated by the Trump administration in 2017. Multiple other lawsuits concerning the funding from other groups are currently pending.
The Teen Pregnancy Prevention program was established in 2010 under former President Barack Obama to fund teen pregnancy prevention. The program funded 102 grantees serving nearly half a million young Americans in its first five years, and its second five-year cohort, whose funding was cut short, was set to serve 1.2 million youths in 39 states.
"The court's decision today is a rebuke of the Trump administration's effort to kill a program that is working effectively to lower teen pregnancy rates," Sean Sherman, an attorney for the Public Citizen Litigation Group, said in a statement. "Because of the court's ruling, the four grantees will be able to continue to serve their local communities and to conduct important research."
TPPP is primarily devoted to funding organizations who are implementing prevention strategies that have been proven to be effective, with the remaining 20% of funds going to programs that try new strategies. The program may be having an effect; according to the Centers for Disease Control and Prevention, teen pregnancy rates have "fallen to a new low each year" since 2009, with pregnancy rates falling by 59% among 15- to 17-year-olds and 48% among 18- to 19-year-olds since 2007.
The HHS, however, moved to end the program in July 2017, sending notices to grantees informing them that their funding was being canceled and the program would be shuttered by June 30.
Though the agency claimed in an August 2017 press release that the program was "not working," internal communications cited by NBC News showed that the program's end was instead influenced by appointees who held pro-abstinence views. Congress renewed funding for the TPP in its most recent budget, however, and the HHS agreed in March to continue funding three grantees through August while their legal cases were pending.
The federal ruling was one of two rulings in favor of women's health in recent days, as Ohio's defunding of Planned Parenthood was struck down by a three-judge panel in the U.S. Court of Appeals for the 6th Circuit.
The Ohio law, which was established in 2016, banned abortion providers or abortion rights promoters from receiving state funds for services unrelated to abortion — including sexually transmitted diseases, breast and cervical cancer, and infertility, among other services. Ohio Planned Parenthood chapters brought their lawsuit against the state months after the bill's passage, and were granted a temporary injunction by a U.S. District Court in September 2016 that prevented the law from taking effect.
In their ruling, the judges found that the Ohio law violated Planned Parenthood's First Amendment rights by denying funding based on their advocacy for abortion, as well as their due process rights and the Equal Protection Clause.
"Although the government has no obligation to subsidize constitutionally protected activity, it may not use its control over funds to curtail the exercise of constitutionally protected rights outside the scope of a government-funded program," the ruling noted.
This isn't the first time that a state has tried to target Planned Parenthood's funding — or that the measures have had their day in court. Previous efforts to block funding were foiled by courts in Florida and North Carolina, and efforts to prevent Medicaid funding for Planned Parenthood were struck down in Texas, yet upheld in Arkansas.
Trump's presidency has paved the way for more states to successfully defund Planned Parenthood, as he signed legislation in April 2017 that rolled back an Obama-era regulation preventing states from denying family planning funding to abortion providers.
This April alone, Tennessee and Nebraska have passed measures aimed at defunding Planned Parenthood. The Tennessee measure directs the state to seek a federal Medicaid waiver allowing them to defund groups that provide abortions, while the Nebraska law directly blocks abortion providers from receiving funds through the Title X family planning program.
Under the new reduced regulations, however, it remains unclear whether these new laws will face the same doomed fate as the 2016 Ohio measure.
"The law I just passed is based on new federal regulations passed under the Trump administration," Tennessee state Rep. Jimmy Matlock, who sponsored the Tennessee legislation, said in a statement to USA Today about the Tennessee and Ohio laws. "The two laws were passed under totally different federal regulatory environments."