Students walk out of schools to mark 19th anniversary of Columbine shooting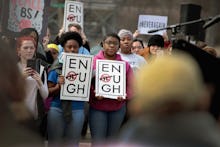 In the aftermath of several high-profile school shootings, students across the United States are planning to walk out of schools on Friday morning to protest a dearth of stricter gun control measures in the U.S.
According to the National School Walkout, more than 2,600 schools are expected to take part starting at 10 a.m. local time. The walkout was planned to coincide with the 19-year anniversary of the Columbine High School shooting in Colorado, which killed 12 students and a teacher in 1999.
"We are walking out for those who lost their lives to gun violence, to talk about the real problems our country is facing and to find solutions the problems that our leaders have failed to address," the event's website reads.
In the years since Columbine, there have been over 100 additional school shootings in the United States, and legislators have been slow to enact laws that would make it more difficult for killers to obtain firearms or high-capacity magazines. But after the Feb. 14 school shooting in Parkland, Florida, which killed 17 people, the surviving students of Marjory Stoneman Douglas High School have taken up the mantle of gun reform by organizing marches and walkouts and becoming some of the most vocal faces of the movement.
On March 14, Stoneman Douglas students helped to organize a separate school walkout, in which students left class for 17 minutes total to mark the 17 lives lost in their school. Friday's protest will be an all-day affair, Lane Murdock, the 16-year-old organizer of the National School Walkout, told ABC News.
"As a student who can't vote, you don't have a lot of power," Murdock told ABC News. "But what you have that's powerful is your voice, your thoughts, but also your attendance. And leaving for longer than 17 minutes, leaving and breaking up that schedule that all American students have every day is how you get people to pay attention."
This story will be updated.