Who's Sorry This Week? Starbucks, a Syracuse fraternity and other public apologies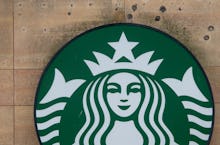 Another week, another deluge of apologies.
In Who's Sorry This Week?, Mic tracks down the most prominent mea culpas from celebrities, companies and other public entities trying to make amends for their various screw-ups.
This week had no shortage of apologies, so let's get right to it.
Starbucks and the Philadelphia police department are sorry that two black men were arrested for waiting for their friend
On April 12, Twitter user @missydepino uploaded a video from the inside of a Philadelphia Starbucks showing two 23-year-old black men — Donte Robinson and Rashon Nelson — being arrested. The video's description alleged they had been arrested simply because they were waiting for a friend to show up and hadn't yet ordered anything.
This set off a firestorm of criticism toward Starbucks and the Philadelphia Police Department for racially profiling the men. Robinson and Nelson were there for approximately two minutes before a manager called the police, according to NPR.
On Saturday, Starbucks CEO Kevin Johnson apologized for what took place.
"The video shot by customers is very hard to watch and the actions in it are not representative of our Starbucks mission and values," Johnson said in a statement posted to the Starbucks website. "Creating an environment that is both safe and welcoming for everyone is paramount for every store. Regretfully, our practices and training led to a bad outcome — the basis for the call to the Philadelphia Police Department was wrong."
In an effort to prevent these incidents in the future, Starbucks said it will close more than 8,000 locations nationwide in the afternoon on May 29 to train its employees on "racial-bias education geared toward preventing discrimination in our stores," according to NPR.
Thursday, Philadelphia Police Commissioner Richard Ross also apologized, saying, "I fully acknowledge that I played a significant role in making [things] worse."
In a statement posted to Facebook on Saturday, Ross initially said the police officers "did absolutely nothing wrong," but softened those comments in his statement Thursday.
"I should have said the officers acted within the scope of the law, and not that they didn't do anything wrong," he said.
The Washington state transportation department is sorry for a traffic sign that said "U SUCK"
On Tuesday, a man named Ruslan Kozlov was driving on Interstate 5 when he saw a curious message on an overhead road sign spanning the width of the highway, according to the Associated Press.
"U SUCK," it said. Koslov posted a picture of the sign taken with his dashcam to Reddit, according to local Fox affiliate Q13.
The Washington state transportation department apologized and said it was "a mistake" caused by a "training error."
Syracuse fraternity Theta Tau is sorry for a video showing its members using racist slurs and simulating sex acts in a hazing ceremony
(Editor's note: The following video contains disturbing content.)
On Wednesday, Syracuse University's student newspaper, the Daily Orange, posted video obtained from a private Facebook group in which students from the campus's Theta Tau engineering fraternity can be seen acting in a way that's "extremely racist, anti-Semitic, homophobic, sexist and hostile to people with disabilities," as described by Syracuse Chancellor Kent Syverud.
The video depicts students performing a skit in which they simulate sex acts on each other and use disparaging slurs against several ethnic groups.
Following the Daily Orange's report — and amid a number of on-campus protests — Syracuse's chancellor announced that Theta Tau had been suspended from campus.
Thursday, Theta Tau's website was updated with a lengthy apology statement, alleging the skit was meant to poke fun at the stereotypical beliefs of a conservative Republican.
First and foremost, every single member of Theta Tau would like to apologize to everyone affected by the racist video that was recorded as a part of our new member process. Theta Tau is made up of a diverse group of engineering students from a variety of nationalities, beliefs and backgrounds, and we strongly believe that racism has no place on a university campus. College is supposed to be about the ideals of the future — a new generation to replace the old one — and it's with profound embarrassment and disappointment in ourselves that we find our fraternity in this situation. Anyone of color or of any marginalized group who has seen this video has every right to be angry and upset with the despicable contents of that video.
Kentucky governor Matt Bevin is sorry for suggesting a teachers' strike would lead to sexual assault
On April 13, Kentucky Governor Matt Bevin said children were at increased risk of being sexually assaulted because a number of public schools were closed during a state-wide teachers' strike.
"I guarantee you somewhere in Kentucky today a child was sexually assaulted that was left at home because there was nobody there to watch them," Bevin said, according to local Fox affiliate WDRB.
Bevin also said some students "were introduced to drugs for the first time because they were vulnerable and left alone."
Bevin's comments drew the ire of teachers and government officials, who described them as "morally reprehensible" and "repulsive," according to Vox.
Sunday, Bevins issued an apology "to those who have been hurt" by his comments, but also thanked those who "understood what [he] was saying."
"For those of you who understood what I was saying, thank you, I appreciate that you do, but clearly a tremendous number of people did not fully appreciate what it was that I was communicating or what it was I trying to say — and I hurt a lot of people," Bevin said in a statement posted to YouTube. "Many people have been confused or hurt or just misunderstand what I was trying to communicate. That's my responsibility, it truly is. I apologize for those who have been hurt by the things that I said. That was not my intent whatsoever."