The leaked Comey memos are a Rorschach test for Republicans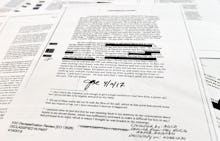 The world has perhaps now grown accustomed to regular head-scratching news coming out of Washington, D.C., on a daily basis, as President Donald Trump fires off tweets riddled with inaccuracies (and attacks and lies) that can force his staff to create policy on the fly to catch up with his off-the-cuff proposals.
But perhaps the most perplexing event to come out of the nation's capital in recent weeks are the meticulously written memos of now-former FBI Director James Comey.
Republicans demanded for weeks that the FBI send over Comey's memos, in which the fired director memorialized his conversations with Trump before he was unceremoniously let go in May — a decision Trump admitted making with the Russia investigation on his mind.
The FBI finally relented, sending over Comey's memos on Thursday, which were then almost immediately leaked to the press.
The memos do almost nothing to bolster Trump's image. Rather, they show Comey has told the same story publicly as he described in the memos he wrote.
They also show that parts of the Christopher Steele dossier that Republicans have railed against have been corroborated by the FBI, that Trump was obsessed with the dossier's allegation that Trump watched prostitutes urinate on a bed in a Moscow hotel and that Trump had lingering doubts about now-former national security adviser Michael Flynn's judgment, yet he asked Comey to let the investigation into Flynn go.
Republicans are insisting the memos prove Trump wasn't attempting to obstruct justice by firing Comey.
"These Comey memos were supposed to implicate President Trump? Really?" Rep. Mark Meadows, a North Carolina Republican and chair of the far-right House Freedom Caucus, tweeted Thursday night. "On page 13 POTUS appears to instruct Director Comey to investigate and find the truth about whether his campaign team did anything wrong. There's nothing in here even approaching 'obstruction of justice.'"
However, the obstruction of justice probe stems from Trump's firing of Comey, which wouldn't be included in the memos. Ultimately, the memo release will function as a sort of Rorschach test, in which Republicans will see in the memos what they want to see.
"It's an inkblot test, essentially," Evan Sigfried, a GOP strategist, said in an interview. "Just like the Comey interviews themselves, they neither prove any sort of salacious accusation that's been made against the president by anyone, nor do they take away from it."
Democrats, on the other hand, say that while the memos are a Republican own-goal filled with embarrassing tidbits for Trump and his administration, the FBI's release of the memos sets a bad precedent.
"This cave by DOJ will have long-lasting ramifications," Matthew Miller, a former Justice Department spokesman from the Obama administration, tweeted. "This is an area governed solely by precedent, and DOJ is setting precedent that it is OK for Congress to interfere with, and receive documents pertaining to, active investigations."