What it's like to be a porter on Mount Kilimanjaro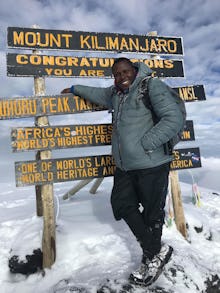 Each year, more than 35,000 climbers approach the northeastern corner of Tanzania with one monumental mission: summiting Kilimanjaro, the world's tallest freestanding mountain. No concrete numbers are available, but it has previously been estimated that just under half of them will make it.
It is not an easy journey. Without porters, it would be impossible. Most groups are accompanied by a support network of dozens of local laborers. They carry the necessary supplies. They help prepare the food. They assist in cases of altitude sickness or other medical emergencies. And they do this all while moving up and down the mountain at twice the speed of their average charge.
James Mong'ateko has lived that life for decades. The native Tanzanian is a certified guide in Kilimanjaro National Park, and I met him while on a media trip with Intrepid Travel, a tour company he now works with exclusively. He started his career shepherding travelers up the 19,341-foot mountain 20 years ago, as a porter. In 2000 he earned his guide certification, and has made it to the summit on over 350 separate occasions. I was introduced to James much closer to sea level, when he was briefing our group on what to expect over the ensuing five days. That's how long it would take a crew of eight relatively fit strangers to complete the 42-mile return trip along the famous Marangu route.
"On Kilimanjaro we say: 'pole, pole'," he explained. "It means, slowly, slowly [in Swahili]. It is not a race." Not for visitors, anyhow. For the porters, it's a different story. They are responsible for setting up camp well in advance of our arrival in designated overnight stop-offs. Mong'ateko walked us through the whole process, but I didn't really get a sense of the magnitude of the operation until the next morning. We boarded our bus to the trailhead and were met by 16 porters, many of them sporting attire from American brands and ski resorts, donated by travelers from treks past.
"I have been with Intrepid for five years," Mong'ateko said. "But I started as a porter in 1998 and didn't go through the training to become a guide until 2000. The first time you go up, you don't know the mountain at all, but you learn quickly." The impressiveness of his personal rise rivals rivals that of Kilimanjaro itself. Official certification — awarded by a government agency — requires myriad health evaluations, hundreds of hours of on-mountain experience and fluency in English.
Mong'ateko had a knack for communication. "A friend of my brother was a mountain guide and he offered me a job carrying stuff," he said. He wasn't exactly enthusiastic about the gig at first. "I needed some money, so I had to do it. It was a challenge. I was still a young boy. Nobody would trust you. But I did like that time, because I could talk well with the clients. I was talking English well, and many of them would encourage me to become a guide."
His was a rare circumstance. As most porters have only a basic proficiency in the language, guide certification remains out of reach — along with the lightened loads and higher pay rates that go along with it.
Despite this, the porters overtaking us on the trail maintained a cheery disposition. "Jambo," they exclaimed happily, as we moved to the side. They sprinted by on steep inclines, weighty supplies strapped to their backs, additional loads balanced improbably atop their heads. The receding glaciers of Kilimanjaro hovered in the distance. For most of the porters, this grueling physical exercise is the most dependable, consistent livelihood available.
"For most of the porters, this grueling physical exercise is the most dependable, consistent livelihood available."
But it was once far worse. As tourism to the region has exploded — along with associated revenues — Tanzania has taken a more active role in safeguarding its most vital industry. "Each porter is allowed to carry no more than 20 kilograms," said Mong'ateko of the now-strictly enforced policy. "But I remember when I started, there weren't really any weight limits. You would just feel out the bag with your hands." Worse still, there weren't any standards when it came to basic equipment. Porters wore tattered footwear, carrying cumbersome packs that would dig into their skin. Malnourishment was commonplace. "People had been dying because they weren't checking for proper equipment," he recalled.
Today the landscape isn't nearly as treacherous. International outfitters such as Intrepid have helped push for reform. With their reputation on the line, Intrepid is unlikely to cut corners when it comes to the safety of their contractors. Travelers can opt to book an experience independently, but it's a more time-consuming process; you'd have to procure permitting, and take on much greater risk.
The vast majority of climbers go through tour operators for safety reasons — it's not just the well-being of the porters that might hang in the balance, but also your own. Above 15,000 feet, seemingly minor missteps can suddenly become catastrophic. I witnessed it firsthand: Setting out at midnight, the final 4,000-foot leg of our ascent to Uhuru Peak was an unforgiving series of switchbacks carved into a near-vertical cliffside. About two hours in, a stoic 70-year-old New Zealander in our group keeled over from acute mountain sickness. Dropping like a bag of bricks, the downward motion was as silent as it was abrupt. Guides and porters converged in a frenzied instant, administering oxygen and bringing him back to consciousness. Mong'ateko was calm and calculated in his response, but he had to rely on the strength of his porters to help usher the ailing man back down to the safety of basecamp.
As the rest of us plodded on toward Africa's ceiling, it was our bright-eyed porter Changige who helped lead the charge. One of the more adept English-speakers among his peers, he could potentially follow the Mong'ateko path to being a guide. "We are always trying to teach them," Mong'ateko said of the aspiring porters. "The ones going with you up to the top are trying to make the transition. They see the way we handle the clients, the body language, the confidence. It's the only way they can get the proper experience for the job."
It's an arduous apprenticeship, and, as with restaurant servers, tips play a large part in the porters' earnings. Intrepid provides a tipping guideline of $70 to $120 for the five-day trip. And that money is split between guides, chefs and other laborers — 22 total on Intrepid trips. At the end of the trek, hikers are always sent off with the native hymn of Kilimanjaro, which the porters sing in unison. The joyful revelry can belie the difficulty of their livelihood. The porters work incredibly hard to help travelers achieve the ascent of a lifetime — and climbing Kilimanjaro is simply another day of work for these unsung heroes.