More Americans want tech companies — not the government — to fight fake news, according to new study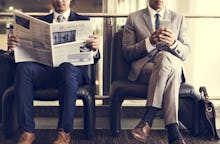 According to a new Pew Research Center study, 58% of United States adults would prefer the government stay out of controlling what news gets published and shared, even if it meant that fake stories might surface. Meanwhile, 39% would prefer that the government step in. However, 56% of Americans want tech companies to step in and combat false information, even if it meant limiting what was published and shared, while 42% don't.
Pew Research's study also notes the split between Democrats and Republicans. While 60% of Democrats want tech companies to take on fake news, only 48% of Republicans feel the same. Across education levels, 64% of adults with some college education and 68% of adults with a bachelor's degree or more were against government interference, while only 50% of those with a high school degree or less support government restriction. Americans 50 years and older prefer that tech companies restrict news more than younger adults.
The dangers of government-curated news are obvious. A politician-controlled news cycle could sway public opinion in dangerous ways. But the benefits of of a free press are tempered by the potential for false reports.
Facebook's role in spreading fake news during the 2016 election isn't very reassuring to those who hope tech companies will save them from misinformation. However, some tech companies are tackling fake news in interesting ways, such as using artificial intelligence to deliver more impartial news.