What to do with wedding flowers: This service repurposes floral arrangements for a great cause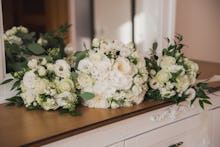 In 2014, Kim Kardashian and Kanye West threw a wedding of epic proportions, spending a reported $136,000 on flowers alone. While their choices aren't necessarily indicative of the values of the rest of the country, it is true that couples in the U.S. spend a hefty amount on details for the big day. A report from The Knot found that the national average cost of the wedding in the U.S. was $33,391 in 2017, with $2,379 dedicated to flowers.
While floral arrangements can brighten a venue and add personality to a wedding reception, they are arguably one of the most ephemeral items prioritized at a wedding — a one-and-done investment. Once the flowers are photographed and enjoyed, they're typically disposed of and eventually make their way into landfills.
This very short lifecycle was something that troubled Jennifer Grove, the founder and CEO of Repeat Roses. Grove said witnessing countless bouquets going to waste during her years as a wedding planner "broke my heart," so she created a company to extend the shelf life and the benefits of floral displays.
Repeat Roses collects and removes floral arrangements from events and, after cleaning and restyling, redistributes these new bouquets to places where people might benefit from them most, including cancer treatment centers, domestic abuse and homeless shelters and hospices.
After the flowers are enjoyed — for about a week – the team at Repeat Roses recollects them and composts them. The cycle allows flowers to be enjoyed twice, is eco-responsible and even allows individuals and organizations who work with the company to receive a charitable tax credit. The service starts at around $1,500, depending on the size of the party and number of floral arrangements. (Grove added most event planners need to pay for a clean-up service regardless, and Repeat Roses can often serve the same purpose.) As a benefit, the amount you spend on getting the flowers sent off for new use and greener disposal can be written off as a charitable donation during tax season.
But, most importantly, the business facilitates real health benefits to those most in need. Research has shown that hospital patients with plants in their rooms may recover more quickly and feel more positive about the recovery process. Patients surrounded by flowers experience less stress and anxiety. Plants can also reduce toxins in the air, boost productivity and creativity and promote general well-being.
In the two years Repeat Roses has been in full swing, it has delivered over 40,000 flower arrangements, diverting more than 135,000 pounds of waste from landfills, Grove said in a phone interview. "The event industry is one of the most wasteful industries, whether it's food, paper or flowers — these are all things that are not built to last," she said. While Repeat Roses will continue to focus on twice-enjoyed flowers — her company is expanding globally — she hopes the efforts will inspire others to disrupt the wedding industry to make it more sustainable.
While weddings are expensive as is, Grove said many of her clients sign up for Repeat Roses because they're excited to extend the meaning of something that's material. "Our clients, because we're headquartered in New York, they tend to go big on flowers. They'll spend anywhere from $20,000 to $30,000 on flowers. But even if people spend less money on flowers, they'll still include us because it means something to them," Grove said.
The act of paying it forward with flowers resonates with many businesses and brides, Grove said. Repeat Roses ensures its clients see the effects of their impact by sending an email with photos of the refreshed florals and, when possible, the reception of the bouquets. Clients can even choose where their event flowers are sent, an option that can amplify the meaning for some.
More than 2 million weddings are celebrated in the United States every year, meaning there are a ton of flowers that can either be tossed away or pass on a little happiness. "You're not solving the world's problems," Grove said. "But you are making a small difference in many people's lives by doing something kind."
Sign up for the Payoff — your weekly crash course on how to live your best financial life.