Pixar's new short "Bao" celebrates the importance of food in Chinese communities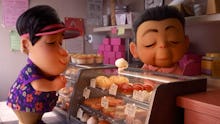 Domee Shi can talk about dumplings all day long — mostly because for the past four years, she's been working on a short film for Pixar about a Chinese-Canadian mother who experiences empty nest syndrome until one of her painstakingly made dumplings turns into a little boy. Shi, who grew up in Toronto, has been eating dumplings for most of her life.
"Dumplings hold a special place in my heart," Shi said in an interview. "I would make them with my mom growing up, and I wanted to pay tribute to the dumpling in this short."
"Bao", based loosely on Shi's childhood, premiered Saturday at the Tribeca Film Festival and will hit theaters as the lead-in to Incredibles 2 on June 15. Shi started at Pixar as an intern and is now the first woman to direct a short film in Pixar's history.
"I've always loved fairy tales like The Little Gingerbread Man or that old folk song, There Was an Old Lady Who Swallowed a Fly," Shi said. "I loved how they're able to balance light and dark themes so well, and I wanted to do a modern-day Chinese version."
The idea for "Bao" first came to Shi when an image of a mom nuzzling a baby dumpling popped into her head while she was working as a story artist for Inside Out.
Shi workshopped the idea with colleagues, including mentor and Inside Out director Pete Docter, before pitching it to the Pixar Shorts program. Once it was selected, Becky Neiman-Cobb, whom Shi had worked with on Inside Out, was brought on as producer. "The cool thing about the shorts program is that it's an opportunity for new leadership," Neiman-Cobb said in an interview. "It was the first time Domee directed, the first time I produced, the first time production designer Rona Liu headed up an art department."
On the surface, "Bao" is about the universally beloved food of dumplings. But what's most groundbreaking is the way animators depict the life of the Chinese-Canadian family, with subtle touches that feel culturally spot-on — the emphasis on cooking and feeding, the tinfoil on the burners, the faded decor, the somewhat overbearing love the mother shows toward her surrogate son.
To authentically capture the process of making dumplings, Shi brought in a true expert: her mother. "We invited my mom to Pixar to do dumpling-making classes for the crew of animators and effects artists," Shi said. "It was my first time observing her making them from scratch, and there's a lot of work involved — rolling the dough, kneading it, mixing the pork filling just right. And my mom is super old-school in that she won't use a food processor or a meat grinder for the pork. She'll chop everything with a huge cleaver by hand and mix it all together. It's total elbow grease."
The detailed, arduous process translates into an act of love in the short as well.
Food is an integral part of Chinese culture, from the act of preparing a meal for your loved ones to the social aspect of dining together. The food-related activities in "Bao" move the plot forward, from shopping for groceries to the joy of eating freshly steamed buns.
"It's a universal theme of food and family and love, and food bringing families together," Neiman-Cobb said. "Everybody related to it."
Even the Easter eggs in the film are tied to family. When the mom and her dumpling son go shopping, it's at Becky's Grocery Store. The shop itself is on Lucy Street — the name of Neiman-Cobb's daughter.
Additional screenings of the short film during the Tribeca Film Festival are planned for Tuesday, Friday, Saturday and Sunday.
"I hope when people watch it, they get this warm, fuzzy feeling in their stomach," Shi said. "I hope they invite their mom to dim sum after."