EDM DJ and producer Avicii dead at 28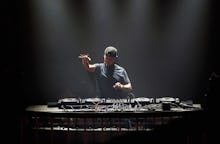 The DJ, producer and electronic music star Tim Bergling — known by the stage name Avicii — has died, the Associated Press reported Friday. He was 28.
"It is with profound sorrow that we announce the loss of Tim Bergling, also known as Avicii," a representative for the musician told Rolling Stone in a statement. "He was found dead in Muscat, Oman, this Friday afternoon local time, April 20. The family is devastated and we ask everyone to please respect their need for privacy in this difficult time. No further statements will be given."
Originally from Sweden, Avicii is known for hits like "I Could Be the One," a collaboration with Nicky Romero; "Wake Me Up"; and his ubiquitous 2011 song "Levels," which was sampled by Flo Rida for the rapper's 2011 track "Good Feeling." After years of success, Avicii announced his retirement from touring in a letter to fans on his website in 2016. He told Billboard at the time that the decision was partly based on health issues, including acute pancreatitis related to drinking.
"To me it was something I had to do for my health," he told Billboard, speaking about his decision to retire from touring. "The scene was not for me. It was not the shows and not the music. It was always the other stuff surrounding it that never came naturally to me. All the other parts of being an artist. I'm more of an introverted person in general."
Avicii released a new EP in 2017, telling BBC he planned to release several more and was considering a return to live performing.