Savage x Fenty, Rihanna's upcoming lingerie line, looks like it's going to be very size-inclusive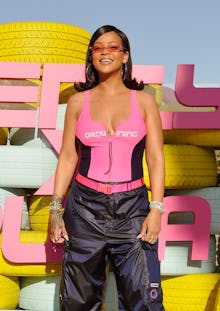 Up until Friday afternoon, little was known about Rihanna's already highly anticipated lingerie line.
This week, her social media accounts finally started gifting us subtle hints of what's to come — first, with a rather strange Instagram photo on Tuesday showing a TV playing what looks like a close-up image of Rihanna's breasts in a bra.
After some internet sleuthing, fans found an account called Savage x Fenty, which Rihanna already followed.
And then finally on Friday, Rihanna's own Instagram account not only confirmed the name of the line (which is, indeed, Savage x Fenty) but also revealed some highly encouraging information.
On the Savage x Fenty website, fans were encouraged to plug in their email to sign up for updates, and offer up their bra and underwear size. In the dropdown, we saw what is possibly the size range for Savage x Fenty.
Just like Fenty Beauty has been trailblazing for its extensive foundation-shade range, Rihanna isn't skimping when it comes to sizes.
For bras, the options went from a 32 band to a 44 band, with cup sizes from A to DD.
The underwear size range was XS to 3X.
Though there are definitely more cup and band sizes in the universe, going up to a 44 band and a size 3X means that Rihanna is definitely looking out for the plus-size customer.
On top of that, Rihanna's makeup campaigns are already regularly applauded for their selection of models who are both racially and size diverse, so it looks like now there's a pretty good chance that Savage x Fenty will have some groundbreaking and super-diverse campaigns of its own.