Why you should travel 15 hours to China to hang out with pandas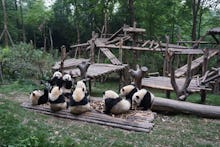 Pandas are, by nature, creatures of leisure. They spend their days gnawing on bamboo and fall asleep when they're tired. A 2014 census estimated there are around 1,800 giant pandas in the wild, and another 300 live in zoos or research centers around the world.
You can see pandas in a few spots in the U.S., including the San Diego Zoo and the Smithsonian's National Zoo in Washington, D.C. But there's nothing quite like visiting these large, laid-back creatures at the Chengdu Research Base of Giant Panda Breeding in China, home to 176 giant pandas at last count. At the nonprofit research center, adult pandas are mostly kept in their own pens, while younger pandas share a space for an overwhelming amount of cuteness. Scientists still can't quite explain why pandas have distinctive black and white markings, but there's no doubt that seeing a group of pandas is awe-inspiring — which perhaps explains why millions visit the pandas at the research base every year. (Mic traveled to Chengdu in April with Hainan Airlines, who sponsored the trip along with the Temple House, a hotel that opened in 2015.)
Few places are as closely associated with a singular attraction as Chengdu and its pandas — the tourism board actually uses "Sichuan, more than pandas" as a tagline to promote its cuisine and other cultural attractions. But there's no denying that pandas are immensely popular: It only takes a few steps into the airport before the panda imagery starts. Panda toys and statues are everywhere at tourist sites, and there's no lack of panda-themed souvenirs to bring home.
What it's like to see pandas in Chengdu
When you've traveled incredibly far for a singular attraction, there's always the risk of building impossibly high expectations.
I'm happy to report that my expectations were exceeded at the Chengdu panda base.
The research base isn't your typical zoo. It's more of an international bucket list destination — you'll hear visitors speaking a variety of different languages. And there's an odd sense of group unity, knowing that thousands of strangers have all made a pilgrimage to spend time with these adorable animals. It's easy to while away the day there: There's a light scent of jasmine in the air, and the bamboo forests keep the base breezy, providing a good protection from Chengdu's humidity.
Spending a morning watching massive, cuddly bears is strangely exhilarating. Every visitor seems to have a different idea of what the pandas are doing and feeling, and every imagined story is as hilarious as the next. The two pandas in a hammock might be playing, cuddling or fighting, depending on what conversation you're overhearing. The panda sprawled out and asleep in a pile of bamboo stalks might be in a food coma or hungover, if you're behind a parent and child or a group of 20-year-olds. But even the most jaded travelers will find themselves jostling for a good photo or squealing at the sight of the smaller babies.
The panda sprawled out and asleep in a pile of bamboo stalks might be in a food coma or hungover, if you're behind a parent and child or a group of 20-year-olds.
Pandas might be slow-moving creatures, but that doesn't mean they aren't entertaining. Aside from eating and sleeping, you can also find them crawling around, drinking water, scratching themselves, playing with others in a hammock and even sitting around in an odd yoga-like position.
At each panda pen, there's signage that indicates who's inside — name, date of birth and a few Tinder-profile-like lines describing their personality. One particularly relatable female panda, Yuan Yuan, "has a strong build, is picky about her food and is impatient." The typical lifespan of a panda in a zoo is around 30 years, and those who visit often can watch pandas grow older.
One particularly relatable female panda, Yuan Yuan, "has a strong build, is picky about her food and is impatient."
Even if your legs are tired toward the end of the visit, don't skip the red panda enclosures — these smaller animals look like a cross between a fox and a panda, and you won't want to miss them.
How to visit the panda research base
Chengdu, a city of 14 million and the capital of the Sichuan province in southwest China, is landlocked and a several-hour flight from China's better-known cities of Beijing and Shanghai. In an effort to connect American travelers with the southwest region of China, Hainan Airlines launched twice-weekly direct flights connecting New York to Chengdu and Chongqing in October. Hainan also operates flights to Chengdu from Los Angeles, while United Airlines connects San Francisco and Chengdu.
"Chengdu is experiencing tremendous growth as a sophisticated business hub, and is a growth market for tourism," a Hainan Airlines spokesperson said in an email interview, citing the popularity of Sichuan cuisine and the panda sanctuary as two top attractions. To lean in on the panda theme, Hainan has partnered with DreamWorks to feature Kung Fu Panda characters on some of its North America flights.
The panda base is about 30 minutes outside the city. The Temple House estimated that 45% of the guests visit the pandas, and the hotel makes the experience seamless by arranging transportation and an English- or Cantonese-speaking tour guide. These services can also be bundled into a panda-themed room package.
The Temple House recommended that guests head out before 8 a.m. to beat the traffic and to see the pandas while they're still awake. By about 9:30 a.m. on our visit, several were already snoozing. It's easy to spend a few hours there, and the base is more than 200 acres, so there's a decent amount of walking involved. (Shuttles are available as well, for a small fee.)
The panda base has a Disney-like feel — there are large crowds everywhere, including school field trips, and panda-themed everything. The research base is large enough that it has its own post office and police station, as well as several souvenir shops and a panda-themed cafe. (It's pretty much impossible to resist buying a few — or a few dozen — panda-themed trinkets or stuffed animals before you leave.)
The security guards are quick to warn visitors not to touch or disturb the animals: Pandas might look cuddly, but they are as dangerous as any other bear.
Throughout my visit, I found myself envying the life of a panda — who wouldn't want to eat and sleep all day? And while I spent plenty of time in Chengdu doing non-panda-related activities, such as walking around the shopping district of Taikoo Li and eating plenty of spicy hot pot, I couldn't help but think that there's a reason why pandas remain the symbol of the city.
One common refrain heard around Chengdu is that its locals are far more laid-back than those in China's other big cities. So it's only right that their most famous residents embody this lifestyle as well. What could be better than a day — or vacation — spent eating and sleeping?