Trump lays into 'New York Times' over story questioning Michael Cohen's loyalty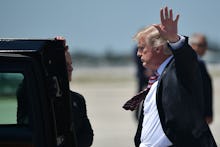 President Donald Trump on Saturday railed against "third rate" New York Times reporter Maggie Haberman, blasting the media and "horrible" investigators over their treatment of Michael Cohen — his longtime lawyer.
The bizarre rant appears to be in response to a Friday Times report by Haberman, Sharon LaFraniere and Danny Hakim about Trump's legal team "becoming resigned" that Cohen may cooperate with federal authorities if he faces criminal charges.
"Most people will flip if the Government lets them out of trouble, even if it means lying or making up stories," Trump tweeted. "Sorry, I don't see Michael doing that despite the horrible Witch Hunt and the dishonest media!"
Cohen, who acted as both an attorney for Trump and a brawling fixer, was the subject of an FBI raid April 9 and is currently under criminal investigation.
The Cohen probe is seen as possibly more dangerous to Trump than special counsel Robert Mueller's Russia investigation, as Cohen has been one of his closest associates for over a decade and is deeply entwined in his business and personal dealings.
Trump suggested on Saturday that the Times report — which quotes longtime Trump ally Roger Stone as saying the president "goes out of his way to treat [Cohen] like garbage" — was based on "non-existent 'sources' and a drunk/drugged up loser who hates Michael, a fine person with a wonderful family."
He alleged that Haberman — whom he claims is a "Crooked H flunkie who I don't speak to and have nothing to do with" — as part of a larger effort to "destroy" Cohen and his relationship with the president "in the hope that he will 'flip.'"
Of course, his claim that he has "nothing to do with" Haberman and doesn't speak with her is easily disprovable. The high-profile White House correspondent has had remarkable access to the president and his inner circle, which she's used to land some of the biggest palace intrigue stories of the Trump White House — including about Trump's recent "meltdown" following the Cohen raid. She has also conducted some of the most famous Trump sit-down interviews of his presidency, including the one in July 2017 in which he bashed Attorney General Jeff Sessions and suggested that Mueller would be crossing a red line if he were to investigate his or his family's finances.
Her Times colleague, Michael S. Schmidt, undercut Trump's claim on Twitter, posting a photo of Haberman standing with the president in the Oval Office; in it, Trump, smiling ear-to-ear, is giving his signature thumbs-up.
Haberman responded to the president's attack obliquely, tweeting out the story that "seems to have touched a nerve."
"When I was reporting this story, I said to one person who's observed the Cohen-Trump relationship that Trump has been abusive to him," she tweeted. "The person replied, 'He's abusive to everybody.'"