Stormy Daniels' ex-lawyer cooperating with feds in Cohen probe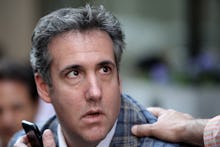 The lawyer who negotiated payouts in 2016 for porn star Stormy Daniels and Playboy model Karen McDougal to keep quiet about alleged affairs with President Donald Trump is cooperating with federal authorities leading a criminal investigation into Michael Cohen, according to reports.
Keith Davidson — who has reached multiple agreements with Cohen — was contacted by the FBI following the April 9 raid on the longtime Trump attorney and fixer.
A spokesperson for the United States attorney's office for the Southern District of New York, which conducted the raid, said in a statement that Davidson was asked for "certain limited electronic information" pertaining to the Cohen probe and that the Beverly Hills attorney complied.
Davidson "will continue to cooperate to the fullest extent possible under the law," the spokesperson said.
Davidson negotiated $130,000 in hush money for Daniels and $150,000 for McDougal just before the 2016 election. Each of the women say that they had affairs with Trump.
Daniels has filed a lawsuit against Cohen, who claims to have paid her out of his own pocket without Trump's knowledge, seeking to be released from her confidentiality agreement.
McDougal is suing the parent company of the National Enquirer, whose CEO is friends with Trump and has been accused of burying her story in what is known in the tabloid industry as a "catch and kill" — buying the rights to a story with no intention of running it. She was released from the legal agreement earlier this week.
The former Playboy model has said that Davidson colluded with Cohen to secure the agreements, according to the New York Times, which noted that Davidson has described Cohen as a friend.
Davidson — who has represented numerous celebrities — also negotiated a $1.6 million payout with Cohen in 2017 to a Playboy model who was impregnated by a top Republican National Committee official in an affair. Elliott Broidy, a donor with ties to the White House, resigned as the RNC deputy finance chairman last week.
Cohen is under criminal investigation, apparently for possible bank fraud, wire fraud and campaign finance violations.
The probe is regarded as potentially more threatening to Trump than special counsel Robert Mueller's Russia investigation — particularly if he flips, as the president's legal team reportedly believes he could.
Trump has raged against the Cohen probe, describing the raid as an "attack on our country" and the investigation into his longtime "pit bull" as a "horrible Witch Hunt."
"Most people will flip if the Government lets them out of trouble, even if it means lying or making up stories," Trump tweeted Saturday. "Sorry, I don't see Michael doing that despite the horrible Witch Hunt and the dishonest media!"