What we're learning from the convincing, maddening James Comey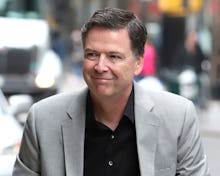 James Comey spent his media blitz this week promoting both his memoir and an image of himself as America's paladin of truth, honor and integrity.
It was, in many ways, a convincing performance.
The former FBI director provided some new insights into some of his most controversial moves, including his reveal in October 2016 that the FBI had reopened its Hillary Clinton email investigation; he stuck to his story about his bizarre, troublesome interactions with President Donald Trump; and articulated some strong, if not particularly original, condemnations of the president's character and fitness for office.
"I think he's morally unfit to be president," Comey told ABC News on Sunday.
But the exhaustive media tour also showcased some of Comey's most frustrating qualities — and likely didn't change anyone's opinion of the ex-FBI director or the president who fired him.
Comey began making the rounds ahead of the Tuesday release of A Higher Loyalty — the title of which is a callback to Trump's infamous purported demand for personal loyalty from the then-FBI director during a private dinner in January 2017.
Comey claims he said that he could not promise loyalty, but "honesty."
Months later, he was fired, with Trump at some points attributing the stunning dismissal to poor job performance and at others to the Russia probe, which Comey was leading at the time.
The episode has since become a key part of special counsel Robert Mueller's investigation into possible obstruction of justice on the part of the president.
It makes sense, then, that there'd be great interest in the story Comey has to tell. But the former FBI director had a wearying ubiquity in the media throughout the week, with an onslaught of appearances on morning shows, cable news and nighttime talk shows like the Late Show with Stephen Colbert, where he drank wine from a paper cup and defended his decisions surrounding the Clinton email investigation as those "best calculated to protect the institutions that I love so much."
He made the unusual decision to personally announce that Clinton had been "extremely careless" in her handling of classified information, he said, because of a public perception that the Department of Justice had lost credibility on the case.
"I thought, if I made my announcement separate, it will maximize the chances that people have confidence in the result," he told Colbert.
He also explained his decision to send a letter to Congress just before the 2016 election announcing that the FBI had reopened the Clinton investigation. The emails found on Anthony Weiner's laptop were not just any emails, he said. They were emails sent during the beginning of her tenure as secretary of state — the time period when there would have been a "smoking gun" revealing she knew her use of a private email server was potentially illegal.
"This could change the outcome of the investigation," Comey said. "I could only see two doors, and they're both actions: one says speak, and the other says conceal."
While this insight into his reasoning — which he repeated in other interviews — may provide some clarification to Democrats, who regard that announcement as a stake in the heart of Clinton's presidential bid, it also fails to explain why he did not similarly disclose the investigation into Trump.
"I think of the two investigations — and everybody working on it in the Department of Justice and the FBI did, as well — as quite different," Comey told Jake Tapper on Thursday. "Very early-stage counterintelligence investigation of Americans, not Donald Trump, a small group trying to figure out, is there any connection of those people and the Russian effort? Separate from the Russian effort, which we had important discussions about whether to publicize that."
As CNN's Ryan Lizza pointed out, this answer was "inadequate" in explaining why he would disclose one and not the other.
"Comey should have set the record straight in 2016," Lizza wrote Thursday. "And while he's lecturing everyone about transparency on his current media tour, he should admit he was wrong not to."
Still, Comey's indictments of Trump's character — the president has an "emptiness" inside him, he said — and his account of his interactions with him likely resonated with some liberals.
"Comey is a complicated figure," Rep. Ted Lieu (D-Calif.), a vocal Trump critic, told CNN's John Berman this week. "I believe that he is a man of integrity ... I don't have anything to doubt what he is saying about the president. And I believe his recollections are true and I think that ultimately he's helpful to the American people."
His memos detailing his strange meetings with Trump and top administration officials — which were released to lawmakers Thursday and promptly leaked to the press — appeared to corroborate the narrative he's spent nearly a year recounting.
But Trump claimed late Thursday to be vindicated by the memos, tweeting that they "show clearly that there was NO COLLUSION and NO OBSTRUCTION."
"Will the Witch Hunt continue?" he asked.
Of course, the memos demonstrate no such thing — and actually raise significant questions about Trump and then-chief of staff Reince Priebus's conduct with Comey surrounding Michael Flynn.
But Trump has appeared enraged by Comey's recent high-profile media appearances and has seemed unable to keep himself from lashing out at the fired FBI director on Twitter — most notably, perhaps, in a rant in which he said Comey "should be prosecuted."
"He is a weak and untruthful slime ball who was, as time has proven, a terrible Director of the FBI," Trump tweeted on April 13. "It was my great honor to fire James Comey!"
White House press secretary Sarah Huckabee Sanders has backed the president in his attacks, calling the former FBI director a "disgraced partisan hack."
"This is nothing more than a poorly executed PR stunt by Comey to desperately rehabilitate his tattered reputation and enrich his own bank account by peddling a book that belongs in the bargain bin of the fiction section," Sanders said in a press briefing April 13. "One of the president's greatest achievements will go down as firing director James Comey."
But for all the White House's attempts to paint Comey as a "fiction" writer, a poll last week found that more Americans trust the former FBI director over Trump — and mostly disagreed with the president's decision to fire him almost a year ago.
Meanwhile, Comey remains as frustrating and complicated a figure as he was before he started his media tour — a pariah to both the left and the right, even as each side seeks to use him to their own political gain.
Some of that may be owing to questionable decisions he's made, an easily mockable "boy scout" persona and, now, a torrent of critical statements about the president. But the former FBI director also appears to regard such a polarizing reputation as part of the job description.
"The challenge of being the FBI in today's political environment is you're not on anybody's side," Comey told Tapper on Thursday. "That confuses people, which I get, and it angers people, which I also get, and there's only so much you can do about it except constantly try to show transparency. Show people your work so that fair-minded people can make a judgment, and that's what I've tried to do in this book."