This week in Trump-Russia news: Democrats allege "unprecedented treachery" amid Trump-Comey drama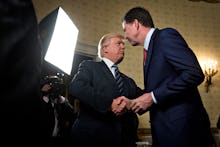 President Donald Trump on Saturday once again accused James Comey of "[breaking] the law," tweeting that he did not declassify the recently-released memos the former FBI director took of their bizarre interactions in 2017.
"He totally made up many of the things he said I said," Trump tweeted, "and he is already a proven liar and leaker."
The rant came days after the memos were released to lawmakers and quickly leaked to the press — and amid an exhaustive media blitz in which Comey has slammed Trump as "morally unfit" to serve as president.
Here's you need to know about the Trump-Comey feud — and everything else that went down in the Russia probe this week.
Comey memos back up his story
Comey has been on a media blitz promoting his memoir, A Higher Loyalty, which delves into his experience during the 2016 campaign and his view of Trump.
In his appearances, he's expounded on some matters related to the Russia probe, including the controversial Steele dossier, and hinted at aspects of the investigation that the American public doesn't currently know about.
The book tour has seemed to infuriate Trump, who has tweeted relentlessly about Comey, referring to the fired FBI director as a "slimeball."
But perhaps the most substantive part of the Comey saga was the release of his famous memos Thursday.
Republicans had pushed for their release for weeks, and later insisted that they show Trump wasn't attempting to obstruct justice by firing Comey. The president, too, suggested that he was vindicated by the documents.
"James Comey Memos just out and show clearly that there was NO COLLUSION and NO OBSTRUCTION," Trump tweeted Thursday. "Will the Witch Hunt continue?"
Of course, the memos prove no such thing.
Instead, the memos show a president bizarrely obsessed with the Steele dossier, particularly its salacious claim that the Kremlin had video of prostitutes performing a "golden showers" show for him in a Moscow hotel room. He also seems preoccupied with then-deputy FBI director Andrew McCabe and the FBI's investigation into Michael Flynn.
Overall, the redacted memos leave a lot of questions unanswered. But they are consistent with the story that Comey has been telling in public about his interactions with the president before he was fired in May 2017 — suggesting that what he's said about their troubling interactions is credible.
DNC sues Trump campaign, Russia over 2016 election
Trump, though, has continued to paint Comey as a "slippery" man who "always ends up badly and out of whack."
He has also mounted an online attack on the Democratic National Committee, which on Friday filed a multimillion dollar lawsuit against the Trump campaign, Russia and WikiLeaks for their actions in the 2016 election.
"Just heard the Campaign was sued by the Obstructionist Democrats," Trump tweeted Friday. "This can be good news in that we will now counter for the DNC Server that they refused to give to the FBI, the Debbie Wasserman Shultz Servers and Documents held by the Pakistani mystery man and Clinton Emails."
In their filing Friday, the Democrats formally accused the Trump campaign of engaging in a broad conspiracy with the Russians in 2016 to undermine Democrat Hillary Clinton.
"During the 2016 presidential campaign, Russia launched an all-out assault on our democracy, and it found a willing and active partner in Donald Trump's campaign," DNC Chairman Tom Perez said in a statement to the Washington Post, which first reported the lawsuit. "This constituted an act of unprecedented treachery: the campaign of a nominee for president of the United States in league with a hostile foreign power to bolster its own chance to win the presidency."
It's a major move for the Democrats, but according to Trump, it will backfire and force them to reveal "a treasure trove of material, including Servers and Emails" that he implied would show wrongdoing on their part.
Rosenstein offers Trump assurances — for now
Meanwhile, Robert Mueller's Russia probe pressed on — despite the appearance last week that Trump was looking to fire the special counsel or deputy attorney general Rod Rosenstein, who oversees the investigation.
Trump, who had already been frustrated with the Russia investigation, seemed to grow even more outraged in the wake of an FBI raid on his longtime attorney, Michael Cohen, which he described as an "attack on our country."
But the president seemed to be soothed — at least a little — by Rosenstein's apparent assurance last week that he is not personally a target of either probe at the moment.
"After the meeting, Trump told some of his closest advisers that it's not the right time to remove [Mueller or Rosenstein] since he's not a target of the probes," Bloomberg reported on Thursday.
While the reassurance may have provided some degree of comfort to the president, it's hard to nail down exactly what it means. For one, even if Mueller does not consider Trump to be a target right now, that can likely change. Additionally, Trump can face political consequences, such as impeachment, even if he does not face legal challenges from the special counsel's findings.
Trump, though, in recent days has appeared to be attempting to give the impression that the Mueller probe is on its way to clearing him — most notably, perhaps, with the peculiar hiring of Rudy Giuliani to "negotiate an end to [the Russia probe] for the good of the country."
Doing so, according to the Atlantic's David A. Graham, suggests a "president feeling increasingly confident about the Russia investigation."
But a less flashy move — the hiring of husband-wife white collar criminal defense duo Marty and Jane Raskin — seems to tell a different story: that of a president gearing up for a potential legal battle stemming from the Russia and/or Cohen probes.
"If it's all going to be done in a few weeks, why do you need experienced courtroom attorneys?" former U.S. attorney Harry Litman told Mic by phone Friday.
Giuliani, one of the president's most loyal allies, may be further indication of the president's desire to adopt a more aggressive posture toward the probe. But he has also cautioned the president against firing Mueller, telling the Washington Post that the special counsel "should be allowed to do his job."
Trump has not said if he plans to dismiss Rosenstein or Mueller, but he has also not closed the door on the possibility. Describing their futures in comments to reporters Wednesday, he said only that "they're still here."
"We are hopefully coming to an end," Trump said at Mar-a-Lago, referring to the Mueller probe. "It has been a very bad thing for our country."