Trump, others express caution for North Korea talks after news of halted nuclear tests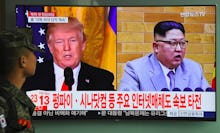 After initially celebrating Friday's announcement by North Korea that it would halt its nuclear testing program, President Donald Trump took a less optimistic tone Sunday morning, criticizing NBC's Chuck Todd about his analysis of the North Korea talks and saying the United States is still "a long way from conclusion on North Korea."
Trump had been quick to hail North Korea's moves as a success earlier in the week. He tweeted twice about the news Friday, saying that the country's decision to halt nuclear testing was "big progress" and that he looked forward to the upcoming summit.
On Sunday, however, Trump reacted harshly to Todd for his comments about the North Korean negotiations on Today. Todd said that although Kim's cooperative tone "obviously is a positive development," the balance was still in favor of North Korea in terms of who would be getting the better deal out of the summit.
Kim "seems to be giving very little but making it seem like he's giving a lot, and he's giving off a tone of cooperation," Todd said.
"But I have to tell you, there are a lot of people asking, there are not many preconditions that the United States is asking for. So far, in this potential summit, the North Koreans have gotten a lot out of this potential summit. What has the United States gotten out of it? We don't have release of those Americans that they've held captive. We don't have a pledge of denuclearization as the ultimate goal. There's a lot of things they are not promising that is raising some red flags."
Trump responded to Todd's comments on Twitter with a more combative tone than his subsequent tweet, writing: "Sleepy Eyes Chuck Todd of Fake News NBC just stated that we have given up so much in our negotiations with North Korea, and they have given up nothing. Wow, we haven't given up anything & they have agreed to denuclearization (so great for World), site closure, & no more testing!"
Trump said in a subsequent tweet that "only time will tell" how the North Korean talks play out.
"We are a long way from conclusion on North Korea, maybe things will work out, and maybe they won't — only time will tell. ... But the work I am doing now should have been done a long time ago!" Trump tweeted Sunday.
Trump's newfound caution about the potential meeting between he and Kim, which is scheduled for late May or early June, was shared by others Sunday in the wake of North Korea's nuclear news.
North Korea has not explicitly agreed to denuclearization, though leader Kim Jong Un did say they would not use their nuclear arsenal "unless there is [a] nuclear threat." Even if they had, however, there's no guarantee the nation would follow through; North Korea has agreed to disarmament negotiations on several past occasions, only to later resume their nuclear program. Experts cited by the New York Times speculated that Kim's conciliatory tactics in recent days may likely be a ploy to get the U.S. and other allies to ease up on the country's current economic sanctions without North Korea having to dismantle its nuclear arsenal.
"North Korea has a long history of raising the issue of denuclearization and has committed to freeze its nuclear weapons programs in the past. We all remember how those pledges and commitments went down over past decades," Nam Sung-wook, a professor of North Korean Studies at Korea University in Seoul, told Reuters. "Although the North's announcement is quite dramatic, it's natural for the world to be extra sensitive to every word spoken by Kim."
Sen. Bob Corker (R-Tenn.) struck a similarly tepid note about the North Korea negotiations Sunday, telling CNN host Dana Bash in an interview that the federal government was taking a measured view toward the upcoming negotiations.
"This is a great public relations effort by Kim Jong Un," Corker said about the move to stop nuclear testing. "I think everyone within the administration and Congress approaches this with skepticism and caution, and yet I'm glad the two leaders are talking."
"You can easily reverse [the decision to stop nuclear testing], and all of us know that. But again, I think [Kim's] handling himself well, to begin the meetings in a way that almost puts the U.S. on the defensive. But look, we'll see where it goes, and I'm glad they're talking, and I hope we have a number of precursor meetings to make sure that the context for all of this is set in the appropriate way."