Trump and French President Macron will meet Monday amid tension over Iran and Syria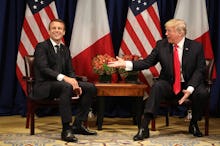 President Donald Trump is set to host his first state visit at the White House Monday, as he prepares to welcome French President Emanuel Macron for a three-day visit amid clashes between the two leaders over the Middle East.
The visit will include a state dinner Tuesday night and an address Macron will deliver to Congress Wednesday. A Macron aide cited by the New York Times said the trip will be a way for the two leaders to "luxuriate in ... pomp and circumstance" and enjoy more personal conversation.
"This will be a visit of symbolism of the strength and history of the U.S.-French relationship," Heather A. Conley, senior vice president for the Center for Strategic and International Studies, told ABC News. "It will be more symbolism than substance."
Following Trump's meeting with Macron, German Chancellor Angela Merkel will visit the U.S. Friday for a working trip during which she is also expected to discuss the Middle East and to lobby for exemptions to Trump's tariffs on aluminum and steel, according to the Los Angeles Times.
At the center of the ceremonial state visit will be the state dinner, which will be planned and executed by first lady Melania Trump and her office. Unlike state dinners hosted by previous presidents, those present at the comparatively small 150-guest dinner will not include any Democratic members of Congress or members of the media, although Republican heavyweights like House Speaker Paul Ryan and Sens. Bill Cassidy and John Kennedy are currently slated to attend.
Yet the ceremonial trip will also include diplomatic overtures. In an interview with Fox News that aired Sunday, Macron told host Chris Wallace that the aim of his congressional address will be to "advocate for multilateralism."
"My objective is to highlight a long-term history between our two countries based on values," Macron said about the objective of his message to Congress. "We are very much attached to the same values and especially liberty and peace. And I think the U.S. today has the very same role to play for peace in different regions of the world, and especially the Middle East, and I think it's one of the last resorts player for this peace and for multilateralism."
The state visit also comes at a contentious time for France and the U.S. with regards to the Middle East. The two countries got their messaging crossed on their recent alliance in striking Syria; though Macron claimed that he had convinced Trump to keep troops in Syria long term after the president announced his intention to withdraw troops, Trump quickly rebuffed Macron's comments. The White House released a statement saying that "the U.S. mission has not changed" and Trump still wanted the U.S. to withdraw its troops "as quickly as possible."
"We will have to build the new Syria afterward, and that's why I think the U.S. hold is very important," Macron said on Fox News Sunday about his insistence that troops remain in Syria. "Why? I will be very blunt. The day we will finish this war against ISIS, if we leave, definitely and totally, even from a political point of view, we will leave the floor to the Iranian regime, Bashar al-Assad and his guys, and they will prepare the new war. They will fuel the new terrorists."
The trip is also set to involve discussions about the Iran nuclear deal, as Trump mulls pulling the U.S. out of the deal ahead of a mid-May deadline. Macron is expected to try and persuade Trump to renew the nuclear agreement.
"This visit will be dubbed the 'Save the Iran Nuclear Agreement' trip," Conley told ABC News. "The French have historically been the toughest EU of the three — that's U.K., France and Germany — on being tough on Iran, getting the toughest compliance possible. So in some ways, President Macron is the best to provide the president with ... the toughness that he wants about and towards Iran, but trying to do so in a way that preserves the Iran nuclear agreement."
The third area that the French are expected to bring up with Trump is the Paris Climate Accord, which Trump withdrew the U.S. from in June 2017. The Élysée Palace, the French equivalent of the White House, told ABC News that it hopes to persuade the U.S. by "describing the consequences of climate change," although with this and the Middle East issues, it does not necessarily expect any major change to come out of Macron's short visit.
"We hope that this state visit will be useful and allow us to present our arguments, to convince and move forward. But on these three topics, we do not expect to obtain results, make deals [or] agreements during the visit. For example, on the Iran deal, we know that President Trump has not made a decision yet. We do not think there will be a diplomatic breakthrough during the state visit," the Elysée Palace told ABC News.
Macron's U.S. trip will not mark the first time that the two leaders have shared a visit together. After Macron and Trump initially met — with a contentious handshake — at a NATO summit in Brussels, Macron invited Trump to France for a state visit in July. During the trip, Trump took in the country's Bastille Day military parade — inspiring him to order his own upcoming military parade — and shared another uncomfortable handshake with the French president.
Throughout both leaders' presidencies, the relationship between Macron and Trump has been friendly — although, as their fraught handshakes suggest, sometimes tense.
"I like him. He's a friend of mine," Trump said about Macron in a January interview with Piers Morgan. "He's a great guy, his wife is fantastic. I like him a lot. You know, we had dinner at the top of the Eiffel Tower."
Macron, too, has praised Trump, telling Wallace Sunday that the two have a "very special relationship" and are both "mavericks" and political outsiders who surpassed expectations with their electoral wins. Much like Trump, Macron has also faced waning popularity among his constituents, and the two currently share a 40% approval rating.
"I think we have a strong personal relation based on the different meetings we've had and especially his visit, your president gave to my country for Bastille Day in 2017," Macron added on Fox News.
Yet the two have also clashed on issues, and Macron hasn't been afraid to hit back against Trump. The French president said that his initial handshake with Trump wasn't "innocent," but rather a "moment of truth" engineered to show his strength. After Trump withdrew from the Paris Climate Accord, the French government released a video that overtly corrected a previous video released by the White House, and Macron re-appropriated Trump's infamous campaign slogan with a tweet declaring, "Make Our Planet Great Again."
Although Macron hasn't shied away from praising Trump, the French government has also taken pains to describe their relationship as a functional working relationship between two major powers, rather than a warm personal friendship.
"I don't think they are buddies. The goal is not to have affectionate relations, but to establish some sort of personal connection," French spokesman Benjamin Griveaux said about Macron and Trump at a media luncheon, as quoted by the Times.
In an interview with Radio Télévision Suisse, Macron positioned his relationship with Trump as a more strategic alliance with the U.S.
"The United States is the premier power; it is our most important partner in multilateral endeavors; it's our first partner in the fight against terrorism; it is important for collective security," Macron said, as translated by the Times.
"We can be angry with the United States, we may disagree about the methods as we do on Iran, but at the end, we are in agreement," Macron added.