Trump seeks to woo French President Emmanuel Macron in first state visit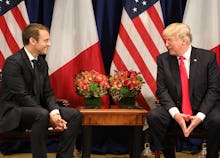 Welcome to Mic's daily read on Donald Trump's America. Want to receive this as a daily email in your inbox? Subscribe here.
Good morning from Emily Singer at Mic.
Here's what's happening in Trump's America:
• The Senate Foreign Relations Committee is set to vote on Mike Pompeo's nomination as secretary of state today. Pompeo may become the first secretary of state nominee since 1925 to receive an unfavorable recommendation from the committee.
About the weekend: Trump rage-tweets as his predecessors gather to pay respects to Barbara Bush
The weekend provided a stark contrast between the way Trump and his predecessors behave.
As former Presidents George H.W. Bush, Bill Clinton, George W. Bush and Barack Obama all gathered to pay respects to the late Barbara Bush, Trump was holed up at his Mar-a-Lago resort, angrily tweeting about the special counsel investigation plaguing his administration.
Trump rage-tweeted about everything from a new lawsuit filed by the Democratic National Committee, which he mocked as "funny"; to former FBI Director James Comey, whom he called a "liar and leaker"; to New York Times reporter Maggie Haberman, whom Trump called a "Crooked H flunkie" and lied about never having spoken to. In fact, Trump has known Haberman for years and has personally initiated calls to Haberman on multiple occasions.
Trump also tweeted again about his pardon power, which experts say Trump has used to send a message to former aides to convince them not to cooperate with special counsel Robert Mueller's investigation.
Trump continued tweeting about the investigation Sunday, randomly exclaiming "a complete Witch Hunt!" in one tweet without any other context.
Trump is riled up by suggestions that his longtime personal attorney, Michael Cohen, may flip on him. Cohen is under federal investigation over payments he helped facilitate during the campaign to two women who claimed to have had affairs with Trump. And Cohen's personal residences and office were raided by the FBI as part of the investigation.
Today in Trump's America: Macron arrives for a three-day state visit
Macron and his wife are set to arrive in Washington, D.C., Monday evening for a state visit — the first of Trump's presidency.
Trump was greeted by pomp and fanfare by Macron last summer, when Trump traveled to France to celebrate Bastille Day. Macron brought Trump and first lady Melania Trump to the Eiffel Tower for dinner. And Trump was wowed by a French military parade and now wants to hold one of his own in the U.S. "just like France's."
Trump will similarly try to woo Macron, beginning the visit with an official welcome at the White House, followed by dinner at Mount Vernon — the picturesque personal residence of former President George Washington.
The first official state dinner will be held Tuesday at the White House, which will buck tradition as the Trumps did not invite any Democratic members of Congress.
On Wednesday, Macron is set to address a joint session of Congress.
Macron's visit comes as Trump and Macron have clashed over how to respond to the chemical weapon attack in Syria. Macron said in a statement that he was the one to convince Trump to keep U.S. troops in Syria, but amended his statement after the White House pushed back on Macron's claim.
Macron and Trump are expected to discuss the situation in Syria — as well as the Iran nuclear deal — during Macron's three-day visit. France wants Trump to keep the nuclear deal in place, while Trump has railed against the deal and has said he wants to end it.
Capitol Hill happenings: CIA director nominee faces backlash
Gina Haspel, the woman Trump nominated to succeed Mike Pompeo as director of the CIA, is facing backlash from more than 100 retired high-ranking military officials, who are concerned about Haspel's role in the CIA's past torture program.
"We are deeply troubled by the prospect of someone who appears to have been intimately involved in torture being elevated to one of the most important positions of leadership in the intelligence community," the military officials, including generals and admirals, wrote in a letter to senators. "While the public record concerning Ms. Haspel is incomplete, there are multiple uncontested reports that she ran a CIA 'black site' prison, at which at least one detainee, Abd al-Rahim al-Nashiri, was repeatedly tortured, including by waterboarding."
Haspel's confirmation hearing before the Senate Intelligence Committee is scheduled for May 9. She's expected to be grilled by senators on the committee over her role in the CIA's torture program, including destroying tapes that depicted detained terrorism suspects being tortured.
On Friday, the CIA released a declassified report saying that Haspel "acted appropriately" when she destroyed the tapes, Politico reported. But it's unclear whether that report will be enough to appease senators who are concerned.
And the rest…
Travel ban: The Supreme Court is set to hear arguments on Trump's travel ban Wednesday, which will test the limits of presidential power.
Special election: Voters in Arizona's 8th District will head to the polls to pick a successor to now-former Rep. Trent Franks — a Republican who resigned after reports surfaced that Franks asked female staffers in his office to carry his baby. The district is heavily Republican, and Democrats are unlikely to flip it. Still, Republicans have been spending money in the race. And the margin could hold signs about Republicans' chances in the upcoming November midterm elections.
Troll so hard: A prankster has placed ads in the New York City subway poking fun at Trump's lawyer Michael Cohen with fake ads for Cohen's law firm. "Got problems? Call 'the fixer'" the ad says, saying that the firm specializes in "hush payments" and "physical threats" and will "pay off porn stars and Playboy bunnies."
Royal baby: Kate Middleton has given birth to her third child — a boy weighing in at 8 pounds 7 ounces. Your NTA author is justifying including this tidbit of news because it's a world event.