Aja wants to end racism in the drag fandom — and she needs your help to do it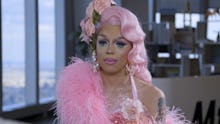 "I've forgotten my I.D.," Aja tells me as she enters the lobby of 1 World Trade, which is a big no-no at perhaps one of the most security-conscious buildings in the world. "You know when you have multiple purses and you grab the wrong one on your way out, the one without all your stuff in it?" I can't relate and nod along appropriately.
Her hair is cotton candy pink. Her fascinator adds a foot to her height — plus the matching pink heels. She is a sugar sweet confection being held in purgatory as we wait for a senior security adviser to give her a once-over before giving the go-ahead. Three sighs of relief from me, Aja and her boyfriend/assistant Tye, a quick two elevator rides up to the and we are ready to go.
Aja is here to help center recent escalating conversations about race within and outside of the RuPaul's Drag Race fandom (a show Aja has appeared on twice). "I want people to be recognized for their talent," Aja said. "Not their color. Not their race."
And yet inequities persist specifically for many queens of color who appear on the show. Sometimes it manifests in less overtly racially based ways, like smaller lines at meet-and-greets (as shared by season seven and All Stars 3 contestant Kennedy Davenport). Other times, the racism is more apparent and can cause, at its most extreme, certain queens of color to fear for their lives.
A Feb. 15 Slate article put it bluntly: "RuPaul's Drag Race has a race problem." That, placing the blame on the show, is worth examining.
A week after the publication of the Slate piece, former winner Bebe Zahara Benet (then appearing on All Stars 3) began receiving racist death threats from fans. She's not the first. In fact, stretching back to 2015, then-contestant Jasmine Masters (appearing on season seven) started receiving death threats from fans (RuPaul herself even weighed in on this instance). It's a sad tradition, started and maintained by a certain subset of fans, that's continued into the show's 10th season, where The Vixen has found herself on the receiving end of such threats after a showdown with fellow contestant Aquaria during week three.
"Everybody should be talking about it," Aja said of the heated conversation. "This is not just a topic for us. This is a topic for everyone. It's not just a problem in the drag community. It's a problem in the world. And this is being shown on primetime television. Millions of people are watching this conversation happen. It is important to talk about it."
Mic sat down with Aja to get her thoughts on racism, colorism and classism within the drag community.