AllGo is a Yelp-like app that reviews how fat-friendly restaurants and other public spaces are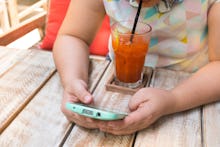 Two-thirds of American adults are overweight or obese, which means fat people aren't part of a niche market — they make up the vast majority of consumers. And yet, when it comes to the physical design of restaurants, theaters and other venues, people with bigger bodies are rarely considered.
It's a reality entrepreneur Rebecca Alexander is immensely dissatisfied with. She hopes that AllGo, the accessibility app she co-founded, will help the world evolve to be more comfortable for everyone.
"I'm a fat person myself," Alexander said in a phone interview. When searching for a restaurant that would accommodate her, she found herself "scrolling through photos of ravioli on the internet, trying to find a picture of a chair." While there are plenty of review sites out there, Alexander said they're not designed with "fat peoples' comfort or convenience in mind."
AllGo will be similar to Yelp in that it will be based on user-generated reviews. But it also prompts users to answer questions about a specific spot's furniture: Do the arms have chairs? Are the tables bolted to the ground? Is there appropriate seating for long waits?
The app will also ask questions about a business' staff and whether they were responsive to the customers' size. "We want to make sure that we recognize that servers are where they are, and part of our mission is to endear them to our cause to helping them accept people of size," Alexander said. "We don't want to troll them."
To be more accommodating to customers of size, Alexander said restaurant staff can defer to the customer when it comes to choosing between a booth (not always comfortable) or a table. "There's that dynamic where hosts with the right kind of training can be responsive to the kind of bodies in front of them — making judgments not based on moral values but based on reality," she said.
If AllGo succeeds in its goals, it'll make businesses see that many of their design choices are turning customers off.
The app isn't just for people of a certain size, but for the people who love and support them, Alexander said. Fat people are daughters, friends, husbands and co-workers, and AllGo will provide resources for those who care about their fat friends, she added.
"I want every HR director who sets up happy hour for an office to look into this when setting up a venue so all of their staff can be comfortable," Alexander said. "I hope this is something that people use as a resource for others."
Alexander hopes AllGo can also help fuel conversations about body size diversity that are seemingly difficult to have. A person's size is often deemed taboo, but not talking about it can sometimes lead to even more discomfort.
"When you pretend that people don't have different experiences based on the size of their body, it can set up larger people to have to talk about things they may not want to talk about — like the indignity of not fitting," Alexander explained. "As a society, we need to get to a place where [we acknowledge that] human diversity in body size exists. Until then, we all have a responsibility to make people feel comfortable."
AllGo will launch this summer in Portland, Oregon, where Alexander currently lives. There's a clear desire for the technology, as AllGo has raised more than $55,000 on Kickstarter and has gained the recognition and backing of influencers like Roxane Gay, Tess Holliday, Marie Denee and others.
As Alexander put it, 67% of American women are plus-size — i.e. they wear a size 14 or above — meaning women with an average waist size of 37.5 inches aren't super comfortable in a chair just 17.5 inches wide. This world as it is, Alexander said, "is not one that is responsive to most bodies, let alone fat bodies and, one could argue, women's bodies."