Arizona's special election could send an important message for the midterms — even if the GOP wins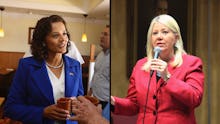 On Tuesday, voters in Arizona's 8th congressional district will head to the polls for a special election that will be seen nationally as a sign of things to come for 2018.
Following the resignation of Rep. Trent Franks in December, Republican state Sen. Debbie Lesko is hoping to keep the deeply conservative district in Republicans' control, while physician and Democrat Dr. Hiral Tipirneni is looking to become the latest in a series of unlikely Democratic victories.
Here's what you need to know going into this race.
A series of scandals got us here
The road to Tuesday's special election was paved with multiple salacious sex scandals.
In December of last year, Franks resigned from Congress after it was discovered that he had offered to pay multiple staffers to bear his children. Trent had reportedly approached two female staffers about becoming surrogates for he and his wife under highly unusual circumstances.
One woman was reportedly offered nearly 100 times the going rate for a surrogacy — $5 million — and both women reported feeling unsure about whether Franks had been proposing that the women be inseminated through in vitro fertilization or through intercourse (Franks is a staunch supporter of the anti-abortion rights movement, which opposes in vitro fertilization because it results in termination of some fertilized eggs).
The scandal inevitably earned Franks the nickname "The Handmaids Tale" congressman after the famous Margaret Atwood science fiction book where a society of evangelical Christians force fertile women to become breeders.
But the scandals didn't end with Franks's resignation. Once the GOP primary race to replace Franks was underway, a leading candidate stumbled right into his own sex scandal. State Sen. Steve Montenegro, who had become a conservative favorite for Frank's seat, was discovered to have been sexting and exchanging nude photos with his campaign's digital media coordinator.
That scandal helped tank Montenegro's chances at the primary, allowing another Arizona state senator, Debbie Lesko, to clench the nomination.
Now Lesko will face off against her Democratic primary opponent with not one, but two Republican sex scandals still in the air.
Democrats face an uphill battle but could still send a message
Despite the wave of Democratic special election victories, and the fact that the Republican incumbent resigned in disgrace, Democrats still face a major uphill battle trying to flip Arizona's deeply conservative 8th district. Donald Trump won the district by 21 percentage points in the 2016 election, down slightly from Mitt Romney's 25-point margin in 2012.
There have been some signs that suggest Democrats could take the seat, including one poll from a reputable non-partisan outlet that put Tipirneni ahead of Lesko by one percentage point. And Democrats recently prevailed over similar long odds in the special election for Pennsylvania's 18th congressional district — a district Trump won by a similar margin where Democrat Connor Lamb pulled off a narrow victory over Republican Rick Saccone.
But as anyone who has ever been to both states will tell you, Arizona is not Pennsylvania. Pennsylvania 18 was a northeastern industrial district with a history of voting for Democrats as recently as 2000. Arizona 8 on the other hand, has been staunchly conservative, and hasn't voted for a Democrat since 1980.
And while there is some positive polling for Tipirneni, she'll have to work hard to overcome Republicans' big advantage in voter registration. Registered Republican voters outnumber registered Democrats by nearly two to one in the Arizona district. By contrast, there were actually more registered Democrats than Republicans in Pennsylvania district where Lamb narrowly won.
According to the Election's Project's Michael McDonald, that registration gap means that in order for Tipirneni to win, she'll likely need to get a portion of the district's registered Republicans to vote Democratic, a major challenge in today's polarized political environment.
But Democrats may not necessarily need to win in order to continue their streak of making big gains in conservative territory. According to the data site FiveThirtyEight, if Lesko manages to keep the margins at 12 points or higher, it could suggest that Republicans are narrowing the gap and making 2018 a more competitive race.
If Tipirneni loses the race by eight percentage points or less, though, it will be in line with the existing trend of Democratic overperformance since the 2016 election. If she wins, it could signal catastrophe for any Republican seeking re-election in 2018.
Republicans and progressives are investing in the fight
Even with their built-in advantages in the district, there are some signs that national Republicans are worried about losing the seat.
On April 3, Politico reported that the Republican National Committee had dumped over $300,000 into the race to support Lesko on top of another $100,000 from the main Super PAC supporting House Republicans. Republicans also held a $2,500 per plate Capital Hill fundraiser for Lesko, headlined by House Speaker Paul Ryan himself.
The considerable resources being poured into what should be a safe seat suggests that Republicans have big fears about another major special election loss ahead of the midterms. Yet while Lesko has GOP money behind her, Tipirneni is benefiting from a wave of grassroots support from major progressive activists.
Ady Barkan, the man with ALS who became nationally famous for confronting Sen. Jeff Flake over his support for the Republican tax bill has thrown his support behind Tipirneni, creating a viral web ad for her campaign.
In an April 16 interview, Barkan told Mic that they had raised over $10,000 simply by tweeting the video. In addition, Barkan has released a video of himself confronting Lesko over congressional Republicans' support for cutting social safety net programs and has been campaigning for Tipirneni in the district.
In addition, Alfonso Calderon, one of the student survivors from the mass shooting in Parkland, Florida, has campaigned on behalf of Tipirneni, as a voice for increased gun control.
The support of national progressive activists may be difficult to turn into support on the ground in the Arizona district, but with Democratic enthusiasm high, no one can say for sure what the results in Arizona will be. That in and of itself should be concerning for Republicans, who, in any other year, could rest assured they would win in a district like this one without having to lift a finger.