Police expose black woman's breasts, force her to ground in viral Alabama Waffle House arrest video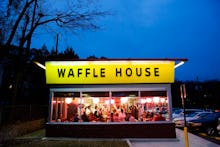 Chikesia Clemons, a 25-year-old black woman, was wrestled to the ground and arrested by two white police officers at a Waffle House location in Saraland, Alabama, early Sunday morning. Footage of the incident was captured in a cell phone video that's gone viral, sparking protests and questions about the treatment of black customers at the restaurant chain.
The police department in Saraland, a suburb of Mobile, wrote Sunday on Facebook it was "aware of the arrest at Waffle House and the accompanying video on social media."
"When the facts of the investigation are gathered, we will have a response," the Saraland Police Department wrote.
The dispute started when a Waffle House associate tried to bill Clemons 50 cents for plastic utensils, Clemons' mother, Chiquitta Clemons-Howard, told AL.com. Clemons said she had not been made to pay for utensils at Waffle House before, so she requested contact information for the store's regional manager. While she was waiting for the business card, the police showed up.
What happened next was captured on video by Clemons' friend, Canita Adams. At start of the clip, Clemons is seen sitting down and explaining to an officer that she'd asked for a "corporate number." While she is speaking, the officer is seen using his hands to pull her from where she is seated.
Seconds later, another officer helps the first grab Clemons and force her to the floor of the restaurant. Clemons' breasts are exposed in the process and one officer orders her to "roll over on your stomach." Clemons can be also heard yelling, "What am I doing wrong? ... Y'all haven't told me anything that I did wrong."
By Sunday afternoon, local residents had begun protesting outside the Waffle House, according to AL.com. Clemons was eventually charged with disorderly conduct and resisting arrest, and was released from jail after her mother posted $1,000 bond.
Mic reached out to Waffle House for comment, and will update with a response.
David Smith, president of the NAACP's Mobile, Alabama, chapter, said in a statement Sunday the manner in which police handled Clemons was "disturbing."
"In light of the current situation in our country — such as the arrest of the two young black men at a Philadelphia Starbucks coffee shop — we felt it was important for our members to get a first- hand account of the incident, which has gone viral on social media locally and across the country," Smith said.
The incident occurred less than two weeks after two black men were handcuffed and detained by police April 12 at a Philadelphia Starbucks coffee shop, where they'd gone to meet up with a friend. A Starbucks employee told the two men they'd have to buy something to remain in the store. When they refused, the employee called the police.