In #MeToo era, Republicans could actually see the number of women in their ranks shrink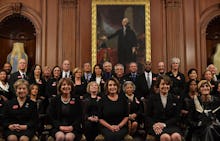 The number of women in the House Republican ranks is likely to grow Tuesday, as Debbie Lesko is favored to win a special election in Arizona's 8th Congressional District — replacing disgraced Republican ex-Rep. Trent Franks and bringing the number of GOP women in the House to 23.
But that increase in the number of women in the House Republican Conference will almost certainly be short-lived.
Even in the wake of the #MeToo movement — in which women are running for office in droves — the number of Republican women lawmakers is actually poised to shrink after the midterm elections.
The number of women in the House Republican Conference could fall by as many as 10, thanks to retirements and the anti-Trump political climate.
Florida's 27th District, represented by retiring GOP Rep. Ileana Ros-Lehtinen, is almost certain to flip to Democrats, which would winnow the ranks of Republican women in the House. Clinton carried Ros-Lehtinen's district by a 20-point margin in 2016, and Ros-Lehtinen was seen as the only Republican who could hold the seat.
Rep. Martha McSally (R-Ariz.) is vacating her Tucson-based House seat in order to run for Senate in Arizona. Her House district voted for Clinton in 2016 by a 5-point margin, and the seat is rated "Tilt Democratic" by the nonpartisan political handicapping website Inside Elections. If it flips as projected, that would amount to yet another loss for Republican women in the House.
In Northern Virginia, Rep. Barbara Comstock is one of the most vulnerable GOP incumbents up for re-election, with her race rated a "Toss-up" by Inside Elections, creating yet another possibility that House Republicans lose another woman in their ranks.
Kansas GOP Rep. Lynn Jenkins' retirement sparked a competitive race, and opened up the possibility that the number of women Republicans in the House decline.
Republican women Reps. Cathy McMorris-Rodgers of Washington state, Claudia Tenney of New York and Mimi Walters of California are also facing competitive re-elections that could lower the number of GOP women in the House.
In addition, three Republican women in safe GOP seats are leaving to run for higher office: Reps. Diane Black and Marsha Blackburn of Tennessee and Kristi Noem of South Dakota.
While one of the leading candidates to replace Noem is a woman, Black and Blackburn are almost certain to be replaced by men, which would further lower the number of women in the House Republican Conference.
To be sure, there are some female Republicans who are top contenders in House races across the country, including Tiffany Shedd in Arizona's 1st District. But she still faces a primary, and then a general election in a seat that's shifted toward the Democratic incumbent in the anti-Trump environment.
A dip in Republican women in the House likely wouldn't be permanent, either. In a year like 2018, when Republicans are expected to face strong headwinds, top candidates — including women — often sit races out to avoid the stain of having a loss on their record. When the political climate improves, more women could run.
And, just because the number of Republican women in the House may drop, that doesn't mean that the overall number of women in Congress as a whole would go down.
Some Democratic women have already won primaries in deeply Democratic districts to replace retiring Democratic men, including Veronica Escobar in Texas' 16th District and Sylvia Garcia in Texas' 29th District. Escobar will likely succeed Rep. Beto O'Rourke, who is running for Senate against GOP Sen. Ted Cruz. And Garcia is almost assured to succeed retiring Democratic Rep. Gene Green.
Altogether, a record 309 women are running for Congress, many of them Democrats, according to an analysis by the Associated Press.