'Smallville' actress Allison Mack is reportedly involved in a sex cult. Here's what we know so far.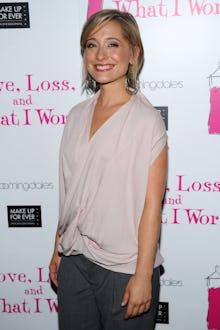 In case you haven't been paying attention, leaders of an alleged sex cult known as "DOS" have been arrested on charges of sex trafficking, sex trafficking conspiracy and forced labor conspiracy.
The two individuals currently facing charges are 57-year-old Keith Raniere, a businessman-turned-self-help guru; and Allison Mack, the 35-year-old actress best known for her role as Chloe Sullivan on the Superman prequel series Smallville.
Reports about DOS' "cult-like" parent organization Nxivm (pronounced "nex-ee-um") have been simmering in the background since at least 2007, but a fuller, far more disturbing picture of the group has only recently begun to emerge. Here's what you need to know about the case.
In October, the New York Times published an extensive investigation into Nxivm, a secretive organization based in Albany, New York, that claims to offer self-help courses to "create solutions for a kinder, more sustainable, ethical world." According to the Times, DOS is a smaller, even more enigmatic group within Nxivm, members of which recruited sex slaves for Raniere and had them branded with a cauterizing device.
The ultimate goal of DOS, as members described it, was to help women "overcome" inherent weaknesses such as "an overemotional nature, a failure to keep promises and an embrace of the role of victim." If the women didn't adhere to certain rules, like replying to text messages from their so-called masters within 60 seconds, they might be disciplined with fasting or other "physical punishments," the Times reported.
Slaves were required to provide incriminating "collateral" to their masters, like explicit nude photographs, and were threatened with their release if they ever left the group, according to a federal complaint obtained by USA Today.
According to the Times, one of DOS' members is India Oxenberg, the 26-year-old daughter of former Dynasty actress Catherine Oxenberg, who said her daughter became "emaciated" after her initiation into DOS. India also told her mother she "had not had a menstrual period for a year and that her hair was falling out," Catherine Oxenberg told the Times.
After the Times published its investigation into Nxivm, Raniere — known within DOS as "Vanguard" — fled to Mexico. In March, the FBI arrested Raniere on charges of sex trafficking, sex trafficking conspiracy and forced labor conspiracy, USA Today reported.
Meanwhile, Mack's alleged involvement in DOS first surfaced in November, a short time after the Times published its report. A man named Frank Parlato, who had been investigating DOS' activities, alleged on his blog that the slaves in DOS were branded with an insignia designed to be a combination of Mack's and Raniere's initials. The Daily Mail also reported Mack's involvement in November, alleging she was a "key recruiter" within DOS.
Mack was arrested Friday on the same charges as Raniere, to which she has pleaded not guilty. She was expected to attend a bail hearing in Brooklyn federal court Monday, but is in the process of working out a potential plea deal, according to People. Tuesday, Judge Viktor Pohorelsky allowed Mack to be released from federal custody on $5 million bond while her case proceeds. She will be "on home detention with electronic monitoring" as things move forward, according to the Hollywood Reporter.
"Ms. Mack was one of the top members of a highly organized scheme which was designed to provide sex to [Raniere]," assistant U.S. attorney Moira Penza said in court Friday, according to the Cut. "Under the guise of female empowerment, she starved women until they fit [Raniere's] sexual feminine ideal."
In the wake of reports alleging Mack's involvement in DOS, several tweets posted from Mack's Twitter account starting in 2013 suddenly take on a far more ominous tone. In a series of tweets in 2016, Mack asked to connect with Harry Potter actress Emma Watson about a "women's movement" of which she was a part.
Mack tweeted something similar to singer Kelly Clarkson in 2013, saying she was a fan of Clarkson's and that she wanted "to chat sometime."
A search on Twitter shows Mack sent similarly cryptic tweets asking to chat with a number of other accounts, mostly those of actors, writers and entrepreneurs.
In a report from PageSix, actress Samia Shoaib said Mack tried to recruit her to a Nxivm-connected women's group known as "JNess" after they met in 2013. Shoaib said Mack seemed "desperate, but hardly dangerous" at the time, according to PageSix.
Mack's Smallville colleague, actress Kristin Kreuk — who played Clark Kent's love interest, Lana Lang — recently defended herself on Twitter against accusations that she was also involved in DOS.
Kreuk admitted to taking one of Nxivm's "executive success programs," which she described as a self-help course meant to help alleviate her shyness, but denied having witnessed anything "illegal or nefarious." (Approximately 16,000 people have taken such courses from Nxivm since the late 1990s, according to the New York Times.)
"I am horrified and disgusted by what has come out about DOS," Kreuk tweeted. "Thank you to all of the brave women who have come forward to share their stories and expose DOS; I can't imagine how difficult this has been for you. I am deeply disturbed and embarrassed to have been associated with NXIVM. I hope that the investigation leads to justice for all of those affected."
April 24, 2018, 4:19 p.m.: This story has been updated.