"Patchwork of local gun laws" blamed for Waffle House shooting suspect having AR-15 in possession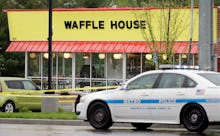 Travis Reinking, the man suspected of shooting four people dead in a Tennessee Waffle House in the early hours of April 22, was arrested by the Metro Nashville Police Department on Monday after a more than 24-hour manhunt.
Taurean C. Sanderlin, 29, Joe R. Perez, 20, DeEbony Groves, 21 and 23-year-old Akilah Dasilva were all killed in the apparently random attack; four other victims were wounded, the New York Times reported.
The search for Reinking, who had seemingly disappeared without a trace before he was apprehended on Monday afternoon, led to a large-scale search operation, which saw the mobilization of around 160 law enforcement officers on the federal, state and local level, NBC News reported. He was found in the woods near the apartment building where he lived.
Local news reports in the aftermath of the shooting have painted Reinking as a potentially delusional and dangerous individual, who told police in 2016 that he believed pop star Taylor Swift was stalking and harassing him, and hacking his phone and Netflix account. He was arrested in 2017 for breaching a security barrier at the White House, reportedly trying to meet with President Donald Trump.
Following that incident at the White House, the state of Illinois revoked Reinking's license to carry firearms, and seized four of the weapons in his possession. However, law enforcement later handed the weapons — including an AR-15 style rifle, the same weapon allegedly used in the Waffle House shooting — over to Reinking's father.
According to Nashville police, the elder Reinking later returned the weapons to his son for reasons that are not currently known.
Seven states currently have ordinances known as "red flags laws," or Extreme Risk Protection Orders, which allow the police to remove guns from the possession of a person considered dangerous or mentally unstable.
In Tennessee, where Sunday's shooting occurred, two such bills — HB0961 and SB0670 — are currently active in the state legislature, but have met active opposition by the National Rifle Association.
In a phone interview with Mic, Avery Gardiner, president of the Brady Campaign to Prevent Gun Violence, called the shooting "senseless and tragic" and pointed to a "patchwork of local gun laws" in the U.S. as one of the main barriers to preventing future mass shootings.
"[The suspect's] firearm identification card had been revoked in Illinois, but Tennessee doesn't use that law," Gardiner said. "We knew he was too dangerous to use guns, but that information did not follow him to Tennessee. States that try to protect citizens with their laws are not protected by states with weaker laws regarding firearms."
With 68 mass shootings so far in 2018 alone, and a renewed national push for gun control legislation to be enacted at the state level, Gardiner said that there's still plenty of work to be done on ensuring that Americans are safe in their schools, churches, movie theaters, workplaces and diners, among other public spaces.
"We need to close the gaps in our background checks, we need to ban assault weapons and we need we need extreme risk laws enacted in every state and at the federal level," she said.