Bill Cosby found guilty in sexual assault retrial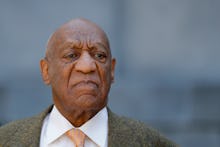 Comedian Bill Cosby has been found guilty on three counts of aggravated indecent assault. The 80-year-old was convicted by a jury of seven men and five women in Norristown, Pennsylvania, on Thursday afternoon.
He faces a maximum sentence of 30 years.
Andrea Constand accused Cosby of drugging and sexually assaulting her at his home outside Philadelphia in January 2004. The first trial ended with a hung jury in June, and prosecutors began presenting the case to new jurors April 9.
Cosby pleaded not guilty to the charges, claiming his encounter with Constand was consensual and that he gave her Benadryl, not the banned sedative drug known as Quaalude.
Jurors began deliberating Wednesday morning. Attorneys delivered closing arguments Tuesday morning. Cosby's wife, Camille Cosby, attended the retrial for the first time Tuesday, arriving at the courthouse by her husband's side.
The comedian chose not to testify in the retrial Monday, the same day Judge Steven O'Neill blocked the defense's request to read to the jury a 2005 deposition from Sheri Williams, a friend of Constand. Cosby's lawyers said there were details in Williams' statement that would prove Constand "could not have been the unwitting victim" during her alleged encounter with Cosby, the Associated Press reported.
The jury heard from a total of 25 witnesses over the course of the retrial.
During week one, which ended April 13, the prosecutors questioned five additional women who had accused Cosby of sexual assault: Janice Dickinson, Lise-Lotte Lublin, Chelan Lasha, Heidi Thomas and Janice Baker-Kinney. The women recounted their experiences of Cosby allegedly drugging and sexually assaulting them.
During week two of the retrial, which wrapped up Friday, jurors heard from key defense witness Marguerite Jackson, a former friend of Constand, who said Constand had planned to swindle money from a "high-profile celebrity."
A detective also read from Cosby's 2005 deposition, in which the 80-year-old admitted to giving women Quaaludes in the 1970s.
Montgomery County District Attorney Kevin Steele announced he would retry Cosby immediately after O'Neill declared a mistrial. This was just a few months before the #MeToo movement was reignited in October, when women spoke out against several celebrity men and accused them of sexual misconduct.