Trump's Veterans Affairs nominee in doubt as concerns rise about his qualifications, behavior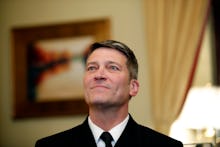 Welcome to Mic's daily read on Donald Trump's America. Want to receive this as a daily email in your inbox? Subscribe here.
Good morning from Emily Singer at Mic.
Here's what's happening in Trump's America:
• Ronny Jackson's nomination as secretary of Veterans Affairs is in doubt.
About last night: Rand Paul flip-flop helps Mike Pompeo win favorable recommendation
For those wondering why voters don't trust members of Congress, look no further than Monday night's vote in the Senate Foreign Relations Committee.
For weeks, Sen. Rand Paul (R-Ky.) railed against secretary of state nominee Mike Pompeo and vowed to do everything he could to stop Pompeo's nomination as well as the nomination of Gina Haspel for CIA director.
"I'm perplexed by the nomination of people who love the Iraq War so much that they would advocate for a war with Iran next," Paul said on March 14. "It goes against most of the things President Trump campaigned on, that the unintended consequences of regime change in Iraq led to instability in the Middle East."
Paul's vote against Pompeo would have made Pompeo the first secretary of state in modern history to get an unfavorable recommendation by the Senate Foreign Relations Committee.
Yet on Monday night, right before the committee was set to vote on whether to recommend Pompeo's nomination to the full Senate, Paul abruptly flipped.
"After calling continuously for weeks for Director Pompeo to support President Trump's belief that the Iraq War was a mistake, and that it is time to leave Afghanistan, today I received confirmation [that] Director Pompeo agrees with @realDonaldTrump," Paul tweeted Monday night.
"Having received assurances from President Trump and Director Pompeo that he agrees with the president on these important issues, I have decided to support his nomination to be our next secretary of state," Paul continued.
Paul's about-face allowed Pompeo to win a favorable recommendation. And it's yet another reason why voters don't trust elected officials at their word.
Today in Trump's America: Confirmation of Trump's Veterans Affairs nominee is in doubt
Ronny Jackson, the White House physician whom Trump nominated to lead the Department of Veterans Affairs, is looking less and less likely to be confirmed to the role.
Republicans postponed Jackson's confirmation hearing, which was scheduled for Wednesday, as they have concerns about Jackson's qualifications, the Washington Post reported.
CBS News also reported the Senate Veterans Affairs Committee is reviewing allegations that Jackson oversaw a hostile work environment.
Democrats were already lined up against Jackson's nomination, as they too had concerns over Jackson's qualifications to lead one of the country's biggest bureaucracies, which handles veterans' health care.
Trump nominated Jackson to the role after firing now-former Secretary of Veterans Affairs David Shulkin.
Jackson's nomination was immediately questioned, as he had no experience leading such a large department. Some compared Jackson's nomination to that of Harriet Miers, one of former President George W. Bush's Supreme Court nominees who was forced to withdraw her nomination for lack of experience and allegations of cronyism.
And the fact that his nomination is now in doubt is not surprising: The White House did no vetting before his nomination, according to Politico's Anna Palmer.
Capitol Hill happenings: It's special election day in Arizona's 8th District
Voters head to the polls in Arizona's 8th District Tuesday to choose a successor to ex-Rep. Trent Franks, the Republican lawmaker who was forced to resign after reports surfaced that he pressured female staffers in his office to be surrogates for him and his wife and carry their child.
The results shouldn't be all that suspenseful: Republican nominee Debbie Lesko is expected to win in this heavily Republican district that voted for Trump by a 21-point margin. As my colleague Andrew Joyce explains, the district is much different than Pennsylvania's 18th District, which saw Democratic Rep. Conor Lamb pull out a victory despite having a similarly Republican lean. The Pennsylvania seat was more ancestrally Democratic, while the Arizona seat is not.
Still the margin in the race is worth watching. If Democratic nominee Hiral Tipirneni comes within 12 points of victory, it will be seen as yet another sign that Democrats are over-performing, and that a wave could be building for the November midterms.
It wouldn't be surprising if Tipirneni kept it close. Republican outside groups dumped money into the race, a sign they had polling that showed the race wasn't a runaway.
Polls close at 7 p.m. local time, or 10 p.m. Eastern. Since more than 150,000 mail ballots have already been returned, it should be clear early on what the final results will look like.
And the rest…
Colorado GOP rep. booted from primary ballot: Rep. Doug Lamborn (R-Colo.) won't be coming back to Congress next year. The Colorado State Supreme Court booted Lamborn from the GOP primary ballot Monday, saying he incorrectly collected signatures for the race. Lamborn represents a heavily Republican district, so Republicans are still favored to hold this seat despite Lamborn's absence. But the incident is an embarrassing one for Lamborn.
More sad news for the Bush family: Former President George H.W. Bush was hospitalized the day after his late wife's funeral for a blood infection, a Bush family spokesman announced Monday night. Bush is responding to treatment, according to the family spokesman.
Redistricting: The Supreme Court on Tuesday will hear arguments in a case regarding Texas congressional and state legislative maps, in yet another case that could determine the fate of gerrymandering — or the practice of drawing districts more favorable to the party creating the maps. The Supreme Court already heard arguments against congressional maps in Wisconsin and Maryland.
Can't make it up: Trump is using his personal cell phone to conduct business in an effort to avoid scrutiny from White House chief of staff John Kelly, CNN reported. The use of a personal cellphone raises security concerns. It's also mind-boggling, given Trump attacked Hillary Clinton in the 2016 campaign for using personal email.