'Dear White People' season 2 shows how layered portrayals of black women make for the best TV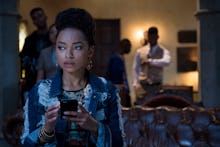 (Editor's note: Spoilers for the second season of Dear White People ahead.)
There is a moment in season two of Dear White People that illustrates the dichotomy of what it means to be a strong black woman in today's world. It's when Samantha White (Logan Browning) is confronted by her white ex-boyfriend Gabe (John Patrick Amedori) about being seen as an "invincible badass." She's choosing to seem unaffected by vicious online trolls who attack her for calling out white supremacy, when she is actually hurting inside. Sam admits to this while fighting back tears because she refuses to become the person "whose pain becomes my identity."
The scene highlights how pain is often rooted in black women's exasperation with the establishment they're railing against. But it also captures how they often feel that they must maintain an image of resilience to bring about the change they wish to see.
Throughout television history, we've seen black women characters — including Lieutenant Anita Van Buren on Law and Order (S. Epatha Merkerson), Maxine Shaw on Living Single (Erika Alexander) and Dominique Devereaux on Dynasty (Diahann Carroll) — embody a remarkable amount of strength, with little examination of the vulnerabilities they may have had to suppress in order to achieve that. But the second season of Dear White People, premiering May 4 on Netflix, is just one example of a few shows currently on the air that complicates this narrative.
The series — based upon the 2014 film of the same name from writer-director Justin Simien — confronts issues that plague the black community, including colorism and police brutality, via a fictional college campus. The aforementioned scene beautifully honors how Sam, a social justice warrior and the voice behind the college's Dear White People radio show, comes to terms with the pain she's internalized without compromising her strength. And even though she may have to present herself as a resilient black woman, it doesn't mean that she doesn't privately experience three-dimensional emotion. In fact, in the midst of that pivotal moment in the season, Sam makes it a point to specifically denounce how black women's pain has historically been monetized in Hollywood films (ones like The Help, The Color Purple and 12 Years a Slave).
But not every black woman has that same relationship with her strength, and not every black woman feels comfortable putting forth an image of invincibility — even on television. The CW's Black Lightning — which highlights the relationship between a black superhero dad, Jefferson Pierce, aka Black Lightning (Cress Williams), and his two superpowered daughters, Anissa (Nafessa Williams) and Jennifer (China Anne McClain) — boldly challenges the ideals of what a strong black woman is.
On the one hand, Jennifer is like many black high school girls right now — intelligent, filled with insecurities, in love with her cute boyfriend (Jordan Calloway) yet very aware that black lives actually don't matter in the eyes of the police. On the other hand, she can harness electricity and shock people with her own hands. But when she first discovers these powers, she's frightened by them. She just wants to be a regular teenage girl navigating regular teenage things, not someone who saves the world. That's a lot to wrap her head around.
While Jennifer understands the need for someone like her to intervene in a community in crisis, she doesn't want to take on something that she might not be able to end. That doesn't mean Jennifer is weak because she doesn't immediately accept an inherited obligation to fight injustice. She's just grappling with what that will ultimately mean for her. As her mother Lynne (Christine Adams) tells her at one point in the show's first season, "It's okay to be strong and scared at the same time. It's called having sense."
As we've seen with Zoey (Yara Shahidi) on Grown-ish — the Black-ish spinoff on Freeform that centers on the oldest daughter from the ABC comedy during her first year of college — some young women have all the desire to become effective activists but struggle with what they want to say.
As a freshman, Zoey's suddenly experimenting with "grown" things like love, alcohol and being a professional, but at the same time she feels a sense of urgency to be a strong voice for the youth in some way. It quickly becomes clear, however, that she doesn't yet have the tools or the platform to do so — and is even unable to galvanize her small group of friends. Still, Zoey wants to enact change and be a part of the solution as she embraces her journey into adulthood. So, she does a lot of self-reflection, and sometimes fumbles along the way.
For instance, in the show's 11th episode, she inserts herself in the middle of a major conflict on campus over which minority group has the right to a "safe space" on campus — the black students, the Latinx community or the conservative female students. In pinning Zoey between her multicultural group of friends, she tries to embody an array of platforms without actually committing to any of them. Her stance is propelled more by her desire to keep the peace between her friends than it is any desire for a more lasting solution. Zoey is still just 18 years old and very naive in a lot of ways — still, that doesn't make her voice any less significant. For many young people who also struggle to find their places in an increasingly tumultuous society, Zoey's character affirms that they, too, are necessary and are seen.
These characters are all interesting, fully realized women who grapple with how to be a strong black woman. They're vital for viewers that idolize seemingly fearless black women, women who withstand the toughest criticism without so much as a quiver in their voices. It's a beautiful deconstruction of that image — one that we don't get to see enough.