Trump returns Iran's threat on nuke deal: "They will pay a price like few countries have ever paid"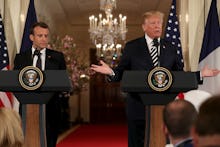 President Donald Trump on Tuesday warned Iran against threatening the United States ahead of his planned decision on the Iran nuclear deal in May, suggesting to reporters he would be open to attacking the country.
"If Iran threatens us in any way, they will pay a price like few countries have ever paid," Trump said in a joint press conference Tuesday with French President Emmanuel Macron.
The ominous remark came as Macron lobbied Trump to remain in the landmark 2015 agreement, which Trump has trashed as "one of the most incompetent ever made."
Trump continued U.S. participation in the accord in January, but promised to "withdraw from the deal immediately" if what he described as "flaws" in the agreement weren't fixed.
"This is a last chance," Trump said at the time. "In the absence of such an agreement, the United States will not again waive sanctions in order to stay in the Iran nuclear deal."
According to CNN, Trump appears poised to pull the U.S. out of the deal — something Iran has promised would come with "severe consequences."
But Macron — who is in Washington, D.C., for three days as the guest of the first official state visit of Trump's presidency — is urging him to remain in and build on the deal. German Chancellor Angela Merkel is expected to do the same when she visits D.C. on Friday. British Prime Minister Theresa May will also push Trump to stay in the agreement before his mid-May deadline.
"It's going to be tough"
It's not clear if Trump will listen, though.
"I think it's going to be tough," William Hartung, director of the Arms and Security Project at the Center for International Policy, said in a phone interview with Mic on Tuesday. "We're probably in the most difficult spot we've been in [for the future of the deal]."
Trump in January called for the deal to allow "immediate inspections" by the U.S.; to "ensure that Iran never even comes close to possessing a nuclear weapon"; to ensure the deal lasts "forever"; and to stipulate that both nuclear testing and long-range missile testing be "subject to severe sanctions."
But Iran has said it will "make no measure beyond its [Joint Comprehensive Plan of Action] commitments and will make no changes in the nuclear deal neither now nor in the future."
Meanwhile, according to Hartung, Trump's hiring of John Bolton as national security adviser and nomination of Mike Pompeo as secretary of state has further jeopardized the deal's future.
"Given Pompeo and Bolton, it makes it very difficult" to picture Trump remaining in the deal, Hartung said. "I think Bolton is almost allergic to any form of arms control, and Pompeo has been a hawk on Iran."
Still, Macron has a unique chemistry with Trump, who demonstrated a strong affinity for the French president during their appearances at the White House on Tuesday.
"I like him a lot," Trump said at the White House press conference Tuesday. "I think a lot of good things are going to come out of our meeting."
In his remarks, Macron said he and Trump had "very frank discussions" on Iran and expressed interest in working toward "a new deal" to address the country's nuclear program.
"This is the only way to bring about stability," he said in French.
Under the current deal, which was struck by former President Barack Obama and Iranian President Hassan Rouhani in 2015, the U.S. agreed to lift sanctions preventing Iran from accessing tens of billions of dollars in assets held in foreign banks in exchange for the country reducing its number of uranium enrichment centrifuges and shrinking its uranium stockpile by 98%.
Macron indicated Tuesday that the terms of the accord could be strengthened under a "new deal," but has said the 2015 agreement is currently the best way to contain Iran.
"For nuclear, what do you have as a better option?" Macron said Sunday on Fox News, which Trump watches religiously. "I don't see it. What is the what-if scenario or your plan B? I don't have any plan B for nuclear against Iran."
Iran, for its part, has said it would consider "resuming at a much greater speed our nuclear activities" if the U.S. left the deal.
"Obviously the rest of the world cannot ask us to unilaterally and one-sidedly implement a deal that has already been broken," Iranian Foreign Minister Mohammad Javad Zarif told CBS News on Sunday.
Though Hartung believes such warnings are Iran's attempts to pressure the U.S. to stay, Trump pulling out would be a "senseless" move that could make it "easier for Iran to get a nuclear weapon."
Trump suggested Tuesday it would be possible to strike a deal.
"We could have at least an agreement among ourselves very quickly," Trump said. "I think we're fairly close to understanding each other."
But he also trashed the current deal as "insane" and said it "should have never been made."
"Nobody knows what I'm going to do on the 12th, although Mr. President, you have a pretty good idea," Trump said during his joint press conference with Macron. "But we'll see."