RuPaul and 'Jeopardy!' host Alex Trebek are making guest appearances on each other's shows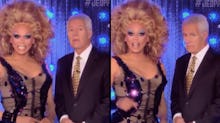 Drag icon RuPaul and famous Canadian Alex Trebek are each making guest appearances on the other's TV competition show. RuPaul, host of RuPaul's Drag Race on VH1, showed up on Monday night's episode of Jeopardy! the long-running trivia game show Trebek has hosted since it was rebooted in 1984.
The two hosts announced their guest spots Monday in a video shared on Twitter by the official Jeopardy! account, in which RuPaul said he would be presenting clues on Jeopardy! and Trebek added, vaguely, he would be "doing something" on Drag Race, which is in the midst of its 10th season.
RuPaul's contribution to Monday night's episode was presenting clues via pre-recorded videos in a category about drag on film. The category, as befits a punny show like Jeopardy! was called "A RuView of Movies," and Ru quizzed contestants about movies like Mrs. Doubtfire and The Birdcage. So far, no details have been released about what Trebek will do in his guest appearance on Drag Race, but here's hoping he'll get the chance to develop a drag alter-ego.
Trebek, who took a brief medical leave after surgery in December for a subdural hematoma that resulted from a fall, has seemed to enjoy the chance to poke fun at his own show. In 2012, he told the Hollywood Reporter he "loved" Will Ferrell's portrayal of him in the recurring Saturday Night Live's "Celebrity Jeopardy!" sketches, and in 2016 even offered to make a cameo appearance in the skit as "Turd Ferguson," a long-running joke within the sketch.