Trump calls dictator Kim Jong Un an "honorable" person, and refuses to explain the comment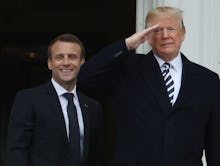 President Donald Trump on Tuesday bragged about the progress he says he's making in pushing North Korea to denuclearize, going so far as to say the country's leader, Kim Jong Un has been "very honorable."
"We're having very, very good discussions," Trump said Tuesday before a meeting with French President Emmanuel Macron, who is in Washington for a three-day state visit. "Kim Jong Un, he really has been very open and I think very honorable from everything we're seeing."
Trump's use of the word "honorable" to describe Kim raised eyebrows, given Kim's violent behavior. Kim's country has imprisoned Americans, including Otto Warmbier, the college student who was jailed over allegedly stealing posters in the country and later died of brain damage.
Kim's country also runs forced labor camps where North Koreans are starved and beaten. Kim even ordered the murder of his half brother.
Trump was asked later on Tuesday, during a joint news conference with Macron, why he'd use the word "honorable" to describe Kim.
But Trump completely dodged the question, and instead talked about the progress he's made getting North Korea to move toward denuclearization.
"A lot is happening and I think it's going to be very positive," Trump said, ignoring the question.
Trump later drew a line in the sand about what would constitute a win in his upcoming meeting with Kim.
"It means they get rid of their nukes," Trump said. "It would be easy for me to make a simple deal and declare victory. I don't want to do that."