Homeownership is actually getting more affordable — if you can get over the anxiety of buying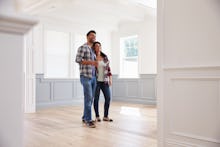 Good news for aspiring homeowners: According to recent data, the monthly costs of owning a home are taking up a smaller portion of people's paychecks. That's particularly heartening when you consider that people tend to overestimate the return on investing in real estate and underestimate the more unforeseen costs related to homeownership.
A survey from NerdWallet has found that homeowners spent 21.5% of their incomes on housing in 2016, including their mortgage payment, property taxes, home repairs and more. This figure has declined steadily since 2010, when the country began coming out of the financial crisis in earnest.
All told, homeowners in America spend an average of $1,443 per month on their homes. That's less than $300 more than the $1,160 median monthly rent for a two-bedroom apartment nationwide, according to Apartment List.
Even as costs appear to be trending down, people are still very likely to experience jitters as a result of their decision to buy a house. Sixty-five percent of respondents in NerdWallet's survey said homeownership made them anxious, and three quarters of respondents were worried about having to foot the bill for surprise repairs.
While the amount of homeowner anxiety seems high, the rest of the figures in the report suggest that a "balanced" number of people are trying to buy and sell homes, NerdWallet home expert Holden Lewis said in a phone interview.
"People feel really anxious about their costs," Lewis said. "But almost three in five said they get a feeling of accomplishment, and about half of them say homeownership makes them feel proud. So they have these positive feelings.
"I kind of like comparing it to having children," he added. "It's rewarding, though some anxiety may be inevitable."
How to ease the inevitable nerves around buying a home
Eliminating this anxiety requires a mix of economic and psychological preparation, Lewis explained. About 11% of millennials said they wish they had waited a little longer before settling down into homeownership, he said, with similar portions of the population saying they bought a house that was too large, or bought a home that was too expensive.
That's why it's important to be realistic about your budget and how much of the down payment you'll need in your desired neighborhoods, though calculators can help. At the end of the day, Lewis said that no amount of preparation will be enough to totally prevent that "What did I just do?" moment.
"You are going to have a little bit of a freakout after you close on that home and move in, no matter how well-prepared you are," he said. "Hopefully, knowing that you'll have that anxiety will help reduce that feeling of anxiety."
Other factors to consider when you're thinking of buying a home: Not all markets are created equal, and some cities in particular have a far more favorable ratio of good-paying jobs to affordable homes. Looking in the suburbs, as opposed to in a city center, can also help you find a house in your price range.
Thinking of buying a home? You can check out our complete guide for finding the best possible house for your budget here.
Sign up for the Payoff — your weekly crash course on how to live your best financial life.