Hank Azaria addressed 'The Problem With Apu' on 'Colbert'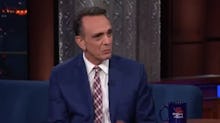 In an appearance on The Late Show With Stephen Colbert Tuesday night, actor and comedian Hank Azaria spoke openly about criticisms leveled against The Simpsons character Apu, for whom he does the voice. Azaria, who is white, has voiced Apu, who is Indian, since the character's inception. People within the South Asian community have criticized the character and specifically Azaria's voice-acting as racist caricature.
On Tuesday, Azaria told Colbert he wants the show and the character to respond meaningfully to that criticism. "I've given this a lot of thought, really a lot of thought," Azaria told Colbert, adding he felt as though his eyes had been opened.
"I think the most important thing is we have to listen to South Asian people, Indian people, in this country when they talk about what they feel and how they think about this character. And what their American experience of it has been."
Azaria told Colbert that he wants to see real inclusion of South Asian voices in the Simpsons writers' room, "genuinely informing whatever new direction this character may take." He added that he would be "perfectly willing and happy" to step aside from voicing Apu or to "help transition" the character into something new. "I really hope that's what The Simpsons does," he said. "It not only makes sense, but it just feels like the right thing to do, to me."
His comments are somewhat of a course-correction from what seemed to be the show's official response to criticism of Apu earlier this month. At the end of an episode in which Marge struggled with a beloved, but racist, children's story, Lisa and Marge break the fourth wall to shrug off complaints about "political correctness" and suggest that not much can be done to amend harmful creative decisions of the past.
The moment was a clear retort to critiques of Apu, specifically to comedian Hari Kondabolu's 2017 documentary The Problem With Apu, in which Kondabolu, a self-professed Simpsons fan, speaks to other South Asian actors and comedians about the damage caused by Apu and other characters like him.
The show's half-hearted answer to Kondabolu and other critics struck many as lazy or completely missing the point altogether. Azaria, who does a handful of voices on The Simpsons, has spoken briefly about Kondabolu's criticism before, telling TMZ in 2017 that "the documentary made some really interesting points and gave us a lot of things to think about and we really are thinking about it."