Bad behavior from top Trump aides creates cloud of scandal around his administration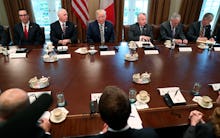 Welcome to Mic's daily read on Donald Trump's America. Want to receive this as a daily email in your inbox? Subscribe here.
Good morning from Emily Singer at Mic.
Here's what's happening in Trump's America:
• Veterans Affairs nominee Ronny Jackson faces pressure to withdraw after a series of negative stories surfaced about his professional conduct.
About last night: Top Trump aides' conduct creates a boatload of problems for the administration
Bad behavior by top Trump administration officials is creating yet another cycle of scandal that's plaguing the White House and overshadowing the state visit by French President Emmanuel Macron.
On Tuesday night, a bevy of bad news dropped on Trump's Veterans Affairs nominee Ronny Jackson.
Jackson, who currently serves as the White House physician, is accused of creating a hostile work environment, including drunkenly banging on a female staffer's door in the middle of the night during an overseas trip in 2015 with former President Barack Obama, according to a report from CNN. Jackson was so loud that the Secret Service had to stop him, as it worried he would wake Obama up, according to CNN's report.
Democratic Sen. Jon Tester, the ranking member of the Senate Veterans' Affairs Committee, also told CNN's Anderson Cooper that roughly 20 people came forward to accuse Jackson of handing out prescription sleep aids to White House staffers "like candy" — something Jackson did so frequently that he earned the nickname "the candy man."
"These are called controlled substances for a reason," Tester told Cooper, adding, "If you consider the prescription drugs we have a problem with in this country right now, it's not the example we need to have set."
The allegations against Jackson threaten to derail his nomination to head the V.A., one of the biggest bureaucracies in American government. Trump on Tuesday afternoon appeared to plead with Jackson to withdraw his nomination.
"He is is a leader and a good man. But I told him — I said, 'You know what, doc? You're too fine a person.' His son is a top student at Annapolis. He's a high-quality person. I said, 'What do you need it for?' So he'll be making — it's totally his decision — but he'll be making a decision," Trump said during a joint news conference Tuesday afternoon with Macron.
Jackson isn't the only top official giving Trump grief.
Mick Mulvaney, the interim director of the Consumer Financial Protection Bureau, said the quiet part out loud about how members of Congress deal with lobbyists and campaign contributions. In a meeting with banking lobbyists and executives Tuesday, Mulvaney said they should give more money to try to win votes in Congress.
"We had a hierarchy in my office in Congress," Mulvaney, who prior to joining the Trump administration was a Republican member of Congress from South Carolina, said at the American Bankers Association conference in Washington, D.C., according to the New York Times. "If you're a lobbyist who never gave us money, I didn't talk to you. If you're a lobbyist who gave us money, I might talk to you."
Mulvaney's comments are completely antithetical to Trump's vow to "drain the swamp." They raise questions about whether banking industry officials were able to buy Mulvaney's vote in Congress as well as in his role at the CFPB, where he's basically ground to a halt the bureau tasked with protecting consumers from predatory lenders.
And let's not forget Environmental Protection Agency administrator Scott Pruitt, who on Thursday will be grilled by two House committees about his conduct leading the EPA. Pruitt is accused of misusing taxpayer dollars for private jet travel and security as well as a potentially unethical living arrangement with the wife of a lobbyist who works with clients regulated by the EPA.
Today in Trump's America: Supreme Court hears travel ban arguments
The Supreme Court on Wednesday will hear one of the most consequential and controversial cases of the term when the Trump administration presents its argument for Trump's travel ban.
Until this point, the Supreme Court only said the travel ban could go into effect while legal challenges on the merits of the ban proceeded. Now, on Wednesday, the highest court in the country will hear arguments on the merits of the ban, which blocks people from five majority-Muslim nations, as well as North Korea and some people from Venezuela.
The state of Hawaii, which is the lead challenger against the ban, says Trump's ban is discriminatory against Muslims. And it will likely bring up Trump's tweets and past comments to make the case. It's unclear how quickly the court will make a decision. However, it will have to come by the end of June, which is when the Supreme Court term ends.
Capitol Hill happenings: Ominous signs for Republicans after Arizona special election
Republicans may have won the special election in Arizona's 8th District Tuesday night, but GOP Rep.-elect Debbie Lesko's win was unimpressive by all measures, as she defeated her Democratic opponent, Hiral Tipirneni, by less than a 6-point margin. That's far less than the 37-point margin ex-Rep. Trent Franks had when he won the district in 2016. He was forced to resign in scandal amid reports that he asked female aides in his office to be a surrogate for his and his wife's child.
Trump also carried the district by a 21-point margin in 2016. If seats that are this deeply Republican are in play come the November midterms, Republicans are in serious risk of losing their House majority.
"There are 147 GOP-held House seats less Republican than #AZ08," Dave Wasserman, a House race expert at the Cook Political Report, tweeted Tuesday night. "It's time to start rethinking how many of those are truly safe in November."
Lesko's margin is even more unimpressive when you factor in that Lesko wasn't a damaged candidate like Alabama's Roy Moore, who was accused of child molestation, or Pennsylvania's Rick Saccone, who struggled to raise money. Lesko received support from GOP outside groups, who spent hundreds of thousands of dollars to aide her bid. Democratic groups, on the other hand, didn't spend in the race.
Early voter data released by the Arizona secretary of state also suggests that Lesko lost independent voters by a massive margin. Republican voters made up 48% of the electorate, just slightly less than the 53% Lesko captured in the race. That suggests independent voters, who made up 23% of the electorate, voted heavily for the Democratic nominee.
And that's an ominous sign for Republicans in the state, as both the GOP-held governorship and at least one Senate seat are up in November, and that large a loss from independent voters could flip those contests to Democrats.
Lesko's win increases the number of Republican women in the House to 23. But as I explained in a Tuesday story, that bump is likely to be short-lived, as Republicans could actually see the number of women in House GOP ranks fall by as many as 10 after the November midterms.
And the rest…
DACA: Yet another federal judge upended Trump's plan to end the Deferred Action for Childhood Arrivals program that shields undocumented immigrants who were brought to the U.S. as minors from deportation. District Judge John D. Bates said Tuesday that the Trump administration must continue to keep the DACA program running as well as accept new applicants, according to the Washington Post. Multiple other federal judges have ruled that Trump couldn't end DACA, but none went as far as requiring that the Trump administration accept new DACA applicants.
Democrats flip legislative seats in New York: There were a slate of special elections held in state legislative districts in New York Tuesday night that brought more good news for Democrats. The party flipped a state Senate seat that should give it control of the state Senate (one Democrat in the state caucuses with Republicans, however, keeping control in Republican hands). Democrats also flipped a state House seat on Long Island that had long been held by Republicans. Republicans tried to use anti-immigrant messaging in the district, but it failed.
Uh…: Trump on Tuesday called dictatorial North Korean leader Kim Jong Un "honorable" and then avoided a question from a reporter asking him to explain that characterization given Kim's violent behavior.